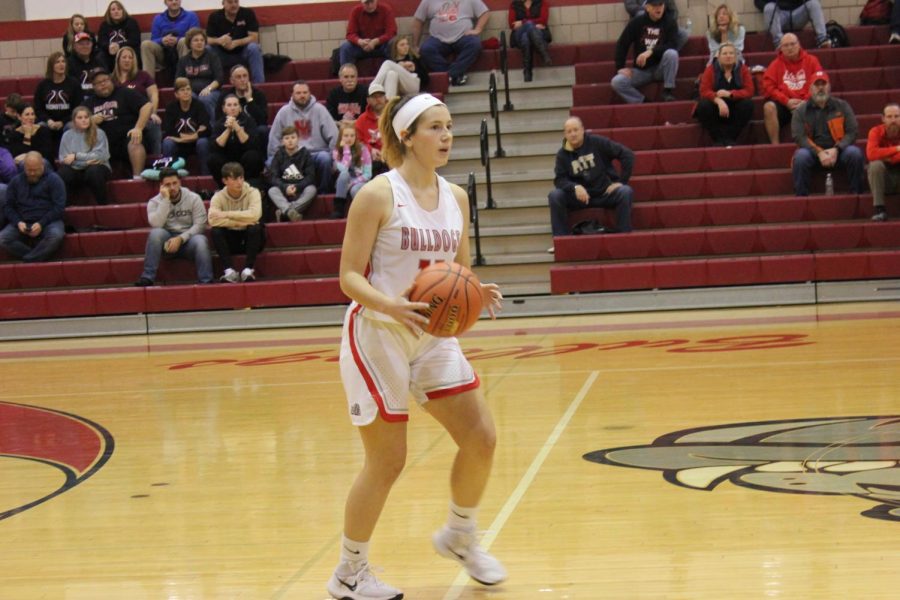 Leah McNear
As the weather starts to cool, and the falling leaves turn into snow, a certain sports season comes closer. The sound of people running, balls being dribbled and buzzers going off. It's the start of the basketball season. 
After ending their season last year with a record of 6-13, the girls hope to work towards strengthening their team. Many are trying to keep a very positive outlook on the year and know that it can only go up from here. 
"I think that last year we did well. We may have not won as many games as wanted, but it was still a super fun season. I think that as a team we should improve upon driving into the lane because that's something that our coach even said last year and if we do that we'll be able to create more chances," sophomore Renae Mohrbacher said. 
"We really want to improve on our teamwork because we didn't all work together last year. As of right now it really looks like we are improving! We are constantly working hard at practice and this year is going to be a good one," senior Myah Hrinko said.
The team, of course, is also looking at big changes when it comes to players too. After losing five seniors last year, three of which were starters, and one being the captain of the team the Bulldogs might face some difficulties preparing for the season. The seniors last year included alumni Selena Bittenbender, Marydeth Feits, Chloe Keller, Taylor Greene and Alexsia Barlamas. Captain Taylor Greene managed to break Freedom's record for the most three-point shots made in one game, during a matchup against Aliquippa during the 2018-19 season. 
The team will be getting a new wave of freshmen coming up through. Many members of the team are keeping a positive outlook on the idea of the upcoming recruits. 
"Last year we didn't accomplish the goals we had in mind at the beginning of the season. We lost 3 starters after last year and we have a younger team compared to years passed. I think that if our older players work with the younger ones we can really push for the playoffs," senior Morgan Swab said.
Some of the teams that will be a harder challenge for the Bulldogs would include Neshannock, Mohawk and Beaver. Last year, the girls lost 67-18 to Neshannock, 63-36 to Mohawk and 66-37 to Beaver. Some teams that the girls would win against would include, New Brighton, Quigley and Aliquippa.
"I would like to say, don't doubt our ability based on our previous records these past few years. Things are changing and we are going to do well this year so come support," Hrinko said.
All in all, the Bulldogs, have an interesting season in store for them. If you would like to watch a girls basketball game, the first match is on Dec. 6 in the high school gymnasium, against OLSH.