Getting the ball rolling
Baseball winds up for new season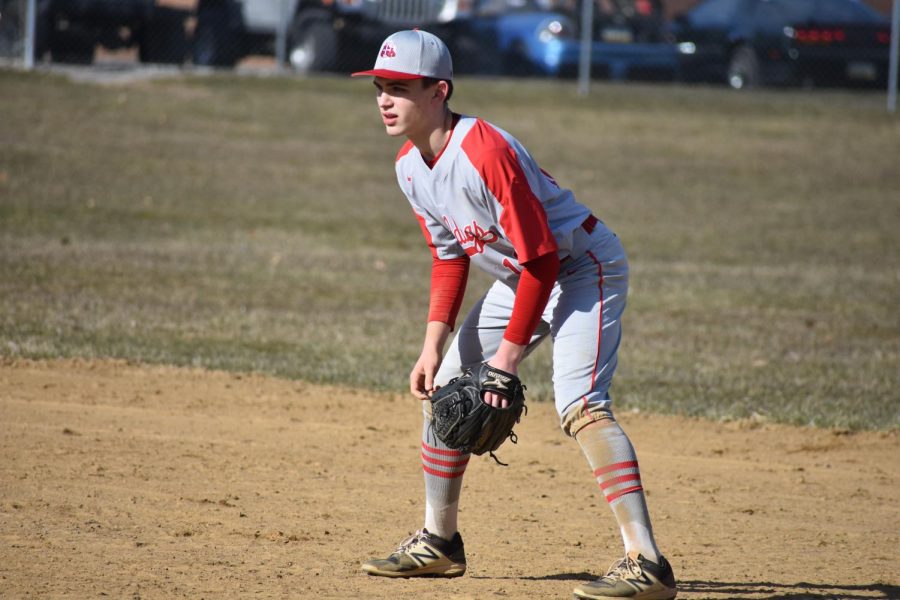 Jessica Palakovich and Cade Skuse
March 23, 2018
At the end of the last year's baseball season, head coach Daniel O'Leary stated that the goal of the 2017-18 team was, at a minimum, to duplicate that year's effort. This year, the team has big shoes to fill, as 2017 was the first time in five years that the team made it to playoffs.
           The team ended in a positive position last year within their 2A-2 Section. They finished only behind OLSH, with a record of 11-3.
"Coming from behind to defeat Bentworth and Brentwood, then defeating number one ranked Serra Catholic to advance to the finals is a memory that will last a long, long time," O'Leary said.
Despite losing a few key players that had graduated last year such as Nick Henderson, Zach Greene, Jordan Herzog and Christian Kraus, O'Leary said that other teams are faced with a similar dilemma, so it evens out in the end.
He expects senior captain Josh Beck and junior Zach Rosa to be big contributors in the outfield, along with juniors Noah Henderson and Noah Yeck as third baseman and shortstop, respectively.
Battling for starting positions are juniors Riley McIlvain, Sam Socash, David Jansen and Tanner Boyer and sophomores Kevin Lawrence, Jake Bauman and Max Ujhazy. They have the support of sophomores Casey Collins and Nolan Colaric, as well as nine incoming freshmen to contribute to the season.
The team began practicing as early as January for the upcoming season, using Sport Zone Academy indoor facility in New Castle, with funds from the baseball boosters.
The coach went on to say that during the winter months, athletic conditioning and arm care are their primary focus.
The season's first league game won't be until April 3.
While the team has done everything in their power to ensure their success, they still have some competition.
"Last year's section champ, OLSH, along with Neshannock, North Catholic and Shenango are expected once again to compete for the top spots in our section," O'Leary said.
O'Leary also said that he wouldn't count out teams such as Laurel, Summit Academy or Aliquippa.
Also new this season, the baseball team got approval from the school board to assemble a batting cage outside where the old, fenced-in pool area used to be before it was put out of use. The baseball team will be in charge of building new steps up to the area, as the old stairs were deemed unsafe and torn off.
The team started their season off with a scrimmage against Fort Cherry on March 17 at Pullman Park in Butler, with Freedom being the home team. The team prevailed, winning the scrimmage 4-1.
The team also competed against Western Beaver on March 19 for their home opener for the season. The fought hard and was rewarded with a win of 5-4 over the opposing team.
The team begins their regular season off with a home game against Rochester at home on March 23. To continue with their season, they play away against Chartiers-Houston on March 26, with a home game the next day against Eden Christen.