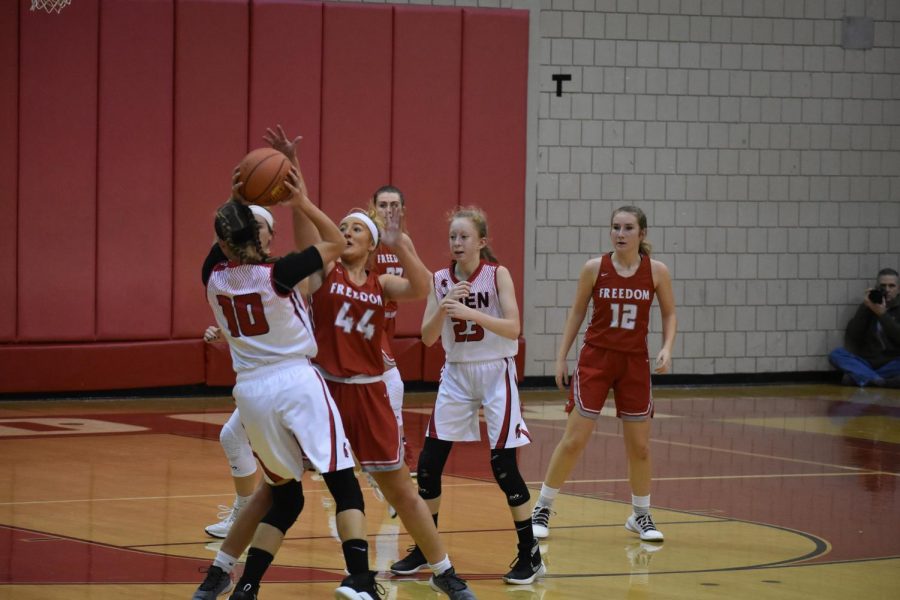 Leah McNear
The girls basketball team began the new season on Dec. 6 with the annual Freedom Tip-off Tournament against Eden Christian, beating them 49-45.
On the second day of the tournament, Freedom beat Sewickley Academy 39-38. The girls had a close game, with sophomore Renae Mohrbacher scoring the winning point in the final seconds of the game.
"When I went up to the line I was super nervous and definitely stressing out, thinking all I needed to do was make one, and we would win the game. I just thought I had to do what I had to do to get it done. Needless to say, it was very stressful," Renae Mohrbacher said.
Senior Morgan Swab was elected by her teammates to do the three-point throwing. Players were given one minute and thirty seconds to shoot three shots from the five basic shot locations: right corner, right elbow, top of the key, left elbow and left corner. 
"It was extremely nerve-wracking and intense, even though it wasn't contested. Two players were already warmed up, but another girl and I were still fresh to shooting, since our game was after," Swab said.
Swab ended up placing second, but still performed well.
 Freshman Julia Mohrbacher was awarded tourney MVP, with her 24-point performance.  Despite it being her first year on the team, Julia Mohrbacher has shown potential. Junior Karissa Mercier was also named to the all-tourney team. 
Despite the team's youth, each player has proven that they deserve their varsity spot by exhibiting their talents. 
The tournament wins are important, considering it's been a few years since the season started on such a positive note. The girls managed to bring the trophy back to Freedom through their hard work.
After a successful tournament, the girls traveled to New Brighton in high spirits on Dec. 9. The game ended with a victory of 53-25. Mercier and Swab were leading scorers in the game, with Swab scoring 12 points and Mercier scoring 11. This win will carry the team's positive attitude to the next showdown. 
The girls remain optimistic despite the tough teams they'll face as the season progresses. The team is determined to display how well they work together to take down the opposition.
On Dec. 12 the team faced off back home again versus Ellwood City. They defeated them with a score of 46-22. They then traveled to take on Beaver Falls on Dec. 16 where they defeated the opposition with a score of 58-26. 
 The girls will continue on versus Neshannock on Dec. 19 and Taylor Allderdice on Dec. 20 on Freedom's court.