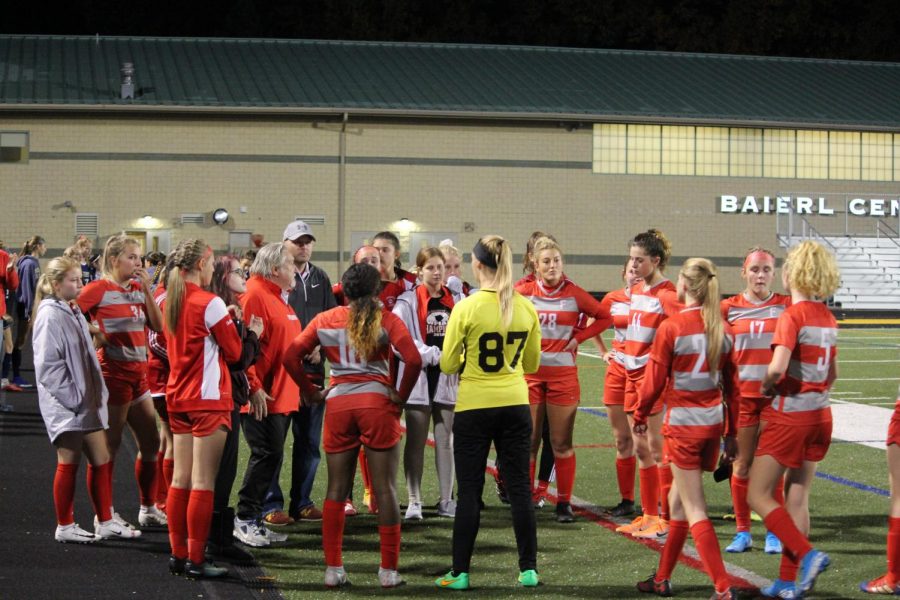 Cole Skuse
After an undefeated season, the girls soccer team aimed to top their class in the WPIAL playoffs, looking to become champions once again and take their shot at the state title, claiming it for themselves this year. However, this goal would fall short from expectations..
On Oct. 28, the team headed to neutral field at North Allegheny to take on the Greensburg Central Catholic Centurions. After the first half, the game was 1-0 in favor of the Centurions. The girls were struggling to maintain a strong offense and were stuck on defense for most of the half. During the second half, a change of events occurred and the game became more back and forth with the second half ending 3-3, pushing the game into overtime. Unfortunately, in the first few minutes of overtime, Greensburg pushed in a goal, resulting in a final of 4-3, and ended the Bulldog's WPIAL playoff run. Freshman Jersee Melvin, junior Jessica Scheel and senior Myah Hrinko scored the three Bulldog goals for the night. 
However, the season was not over yet. The team participated in a WPIAL consolidation game to determine the winner advancing to the PIAA playoffs. They headed to Peters Township on Oct. 30 to take on Bentworth. In a successful game, the Bulldogs left with an impactful 7-2. This victory secured their place in the PIAA playoffs.
The first round of PIAA playoffs occured on Nov. 5 when the girls' took on number one seed Conemaugh Township at Somerset as the 16th seed. In a vast upset, the Bulldogs defeated the Indians with a score of 6-1. Sophomore Renae Mohrbacher lead the team with five goals and senior Jalynn Falk scored the other goal. This game granted Mohrbacher her 70th goal of the season, earning her the school record for most goals in a season.
In the PIAA Quarterfinals, the team met once again with Greensburg Central Catholic. Looking to get revenge, the girls went into the game with full expectations of winning. Though the game was scoreless for most the time, the Centurions still managed to best the Bulldogs by a low score of 1-0. 
After their second and final loss of the season, the team now says goodbye to five seniors whose positions will need to be filled next year. With many returning talents, the team should still be in good shape for next season.