In a light of their own
FHS students participate in other activities outside of school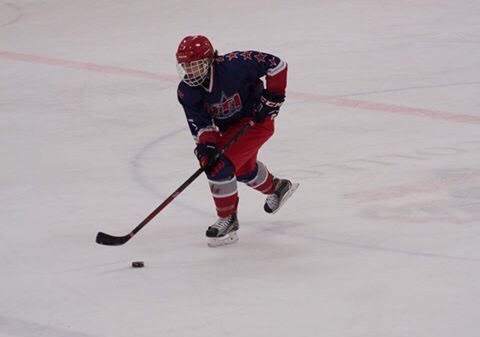 Hang on for a minute...we're trying to find some more stories you might like.
One thing is true about FHS, there are many students, each with their own talents and hobbies. There are sports like football and basketball, but there are also students involved in art or band. This fills the school with a variety of different opportunities. In some cases, these students want to continue with their passion outside of Freedom.
Senior Alexziz Giannamore was involved in a hockey training camp over the summer and was asked to participate in the HTI Stars u20 women's AAA team in Mulmur, Ontario in Canada. She moved to the Hockey Training Institute on Sept. 1 and returned on March 14.
"I've learned so much from being here," Giannamore said. "The biggest thing would probably be how to push myself when my body feels like it has reached its limit."
During that time, she was a part of their fall/winter team. The team is made up of 16 girls from nine different countries (USA, Canada, Czech Republic, Russia, Italy, Great Britain, Germany, Norway and Singapore). The team has also had several girls go on to play college hockey, which she has always dreamed of doing. Alexziz is planning to attend Morrisville State College to play NCAA Division 3 women's hockey and study Business Management.
"Training on ice and off ice every day definitely takes a toll on someone who has never done that before. This has been the most amazing experience of my life. It's definitely been a challenge, but I'm happy to say that I'm going to college because of it," Giannamore said.
Junior Michaela Hedge is on the Star-Styled Dance Center's senior competitive team. She is also captain of the drill team, but there is a difference between the two. One difference may be the amount of choreography involved. At the dance center, they focus more on technique, certain styles of dance and bettering themselves daily. In drill team, the dancing on the field is different than dancing in the studio. They work hard at Star-Styled and the members truly enjoy it.
"I dance because I have valued it since I was young, and dancing is what helps clear my mind off of everything bad or stressful going on in my life. Dancing puts me into a different world, and I love expressing myself through movement," Hedge said.
Freshman Ashley Rose is a member of two gymnastics teams: one being FHS, and the other being Arcadia. She started competing five years ago with Arcadia and decided to join the high school team at the beginning of the year. She became involved with gymnastics when her mom signed her up for a class and she has loved it ever since.
"I love gymnastics because it teaches you life lessons and I also love competing and the friendships that I have made throughout," Rose said.
There are many other students that participate in activities like these, and some are even on the same team. Athletes and artistic students work throughout the year to better themselves and participate in activities they love. The talent does not just flow through the hallways of Freedom, but it spreads through the community to create something even larger than FHS.