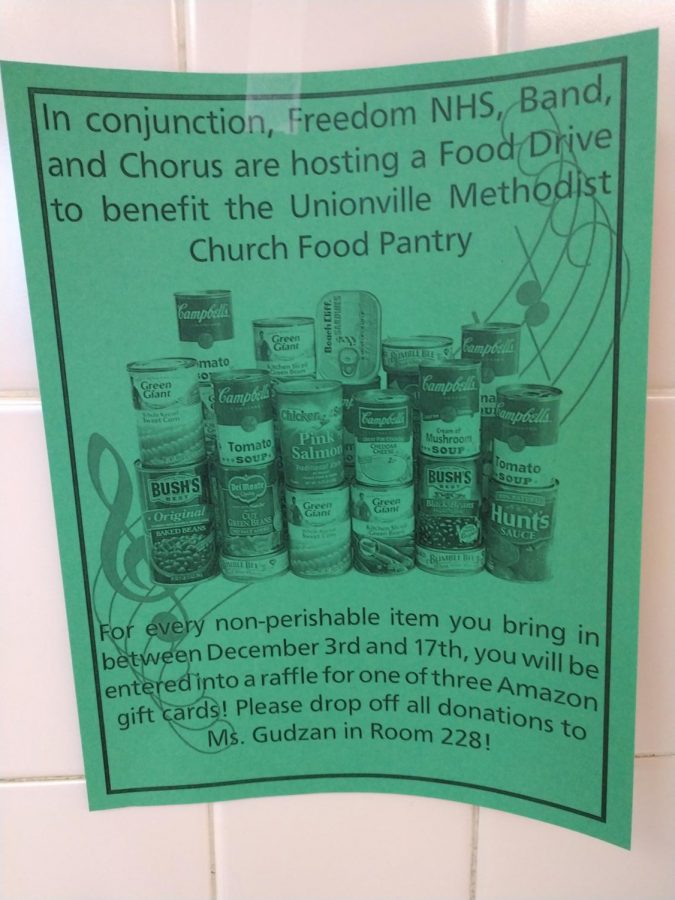 JoAnn Sharpless
According to the Greater Community of Pittsburgh Food Bank, 20.1% of children living in Beaver County suffer from a shortage of food in their households. That means that around 6,620 children in Beaver County don't know if they will have enough food to eat for every meal during the day. At Freedom Area High School, in an attempt to fight hunger in the community, the high schools National Honor Society (NHS), band and chorus are partnering with the Unionville Methodist Church to make a food drive. 
NHS is an organization that honors students who show dedication and fit certain requirements during high school, these requirements include and are not limited to; a GPA which is equivalent to a 3.0, showing qualities like leadership, scholarship, service, and character. Students once accepted into the program are required to get at least 10 outside volunteer hours, while also participating in volunteer events that the group as a whole plan. 
The Freedom NHS chapter annually has one service project each nine weeks. During their fundraisers, they give all the proceeds to the outside organization or cause that they deem to be important. In past years the NHS had put together a blanket drive for the Beaver County Humane Society, and last year they held a penny drive for the middle school hall monitor Dave Matthews. 
This year, the members of Freedom's NHS decided that they would partner with the high school band, and chorus and collect non-perishable foods during the Christmas Concert. Audience members who come to the concert can bring a non-perishable food item with them, which would be collected at the door when they walk in. 
Some examples of non-perishable foods would include things like granola bars, canned foods, rice or beans and any other food that can be stored without spoiling. 
The members of the NHS didn't stop at that, they also decided to open up the food collection to the students in the school. Students who bring non-perishable food in between December 3-17 would be entered in a drawing to win one of three Amazon gift cards. 
All the food collected from both the Christmas concert and from the school will be gathered together and taken to the Unionville Methodist Church. The Unionville Methodist Church will then collect the food items given to them and give them to people who can't receive federal aid, and are in need. They give food to people in the surrounding areas, such as New Sewickley, Freedom, Rochester and New Brighton. 
If you are interested in donating to the Unionville Methodist Church's food pantry you can call them for more information at 724-843-0862.