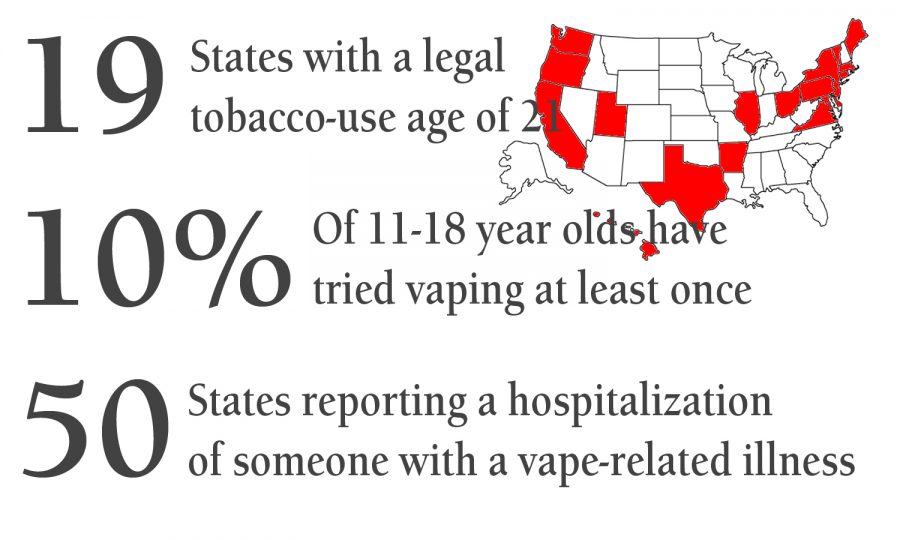 Cole Skuse
The 2019 Monitoring the Future survey found that more than one in every four senior high school students use some form of e-cigarette product. According to the Surgeon General's website, the four main reasons that young adults start using vape products in the first place is because of a family member or friend using one, for the taste of the product, belief that e-cigarettes are less harmful than other products like cigarettes or just out of curiosity. Though so many young adults are addicted to these products, those who are addicted and underage will use these products illegally longer, as Gov. Tom Wolf signed a bill raising the age for tobacco products to 21.
Under the titles of House Bill 97 and Senate Bill 473, the bill reached Wolf's desk on Nov. 27, where he signed this bill into effect. One of the biggest updates besides raising the age for tobacco use is expanding the language for tobacco products to include electronic nicotine products, including vapes and e-cigarettes. The only exception to someone purchasing tobacco under the age of 21 is if that person is 18 or older and was honorably discharged from any branch of the military. The bill is set to take effect on July 1, 2020.
In addition, the bill also sets rules for use of tobacco products within schools. This is part of the efforts to reduce the amount of students who use such products on school grounds. The bill states that any person who uses a tobacco product in a school building, on a school bus or vehicle or on school-owned or school-leased property is subject to a summary offense. The board of school directors, however, is able to establish a spot for smoking on school grounds as long as it is 50 or more feet away from any stadium, bleachers or building that the school owns.
"Numerous studies have shown tobacco products, including smokeless tobacco and e-cigarettes, are particularly harmful and addictive to youths and young adults," Wolf said. "Raising the age to 21 in combination with barring e-cigarettes at our schools will help us prevent young Pennsylvanians from engaging in this dangerous behavior."
In addition, there have been talks on a federal ban to raise the age for purchasing tobacco and e-cigarette products to 21 in response to the vaping "epidemic." The bill proposing this is a bipartisan effort, though does address the black market of e-cigarette products. In the past, President Donald Trump said he would support a bill like this. If passed, the Food and Drug Association would have up to six months to implement this new restriction across the country. According to the National Academy of Medicine, this could allow for a significant decrease in the amount of high school smokers.
Alongside this bill, Wolf also signed into effect Senate Bill 147 and House Bill 49. Senate Bill 147 lifts the current prohibition on hunting on three Sundays in a calendar year, which the Game Commision will determine. House Bill 49 includes a few school safety amendments, along with identifying that credits from a personal finance course can go towards a social studies, family and consumer science, mathematics or business education credit requirement, based on what a district's board of school directors determines beginning in the 2021-2022 school year.