'Off the Wall' art
FHS art class participating in 2017 VANS national Custom Culture competition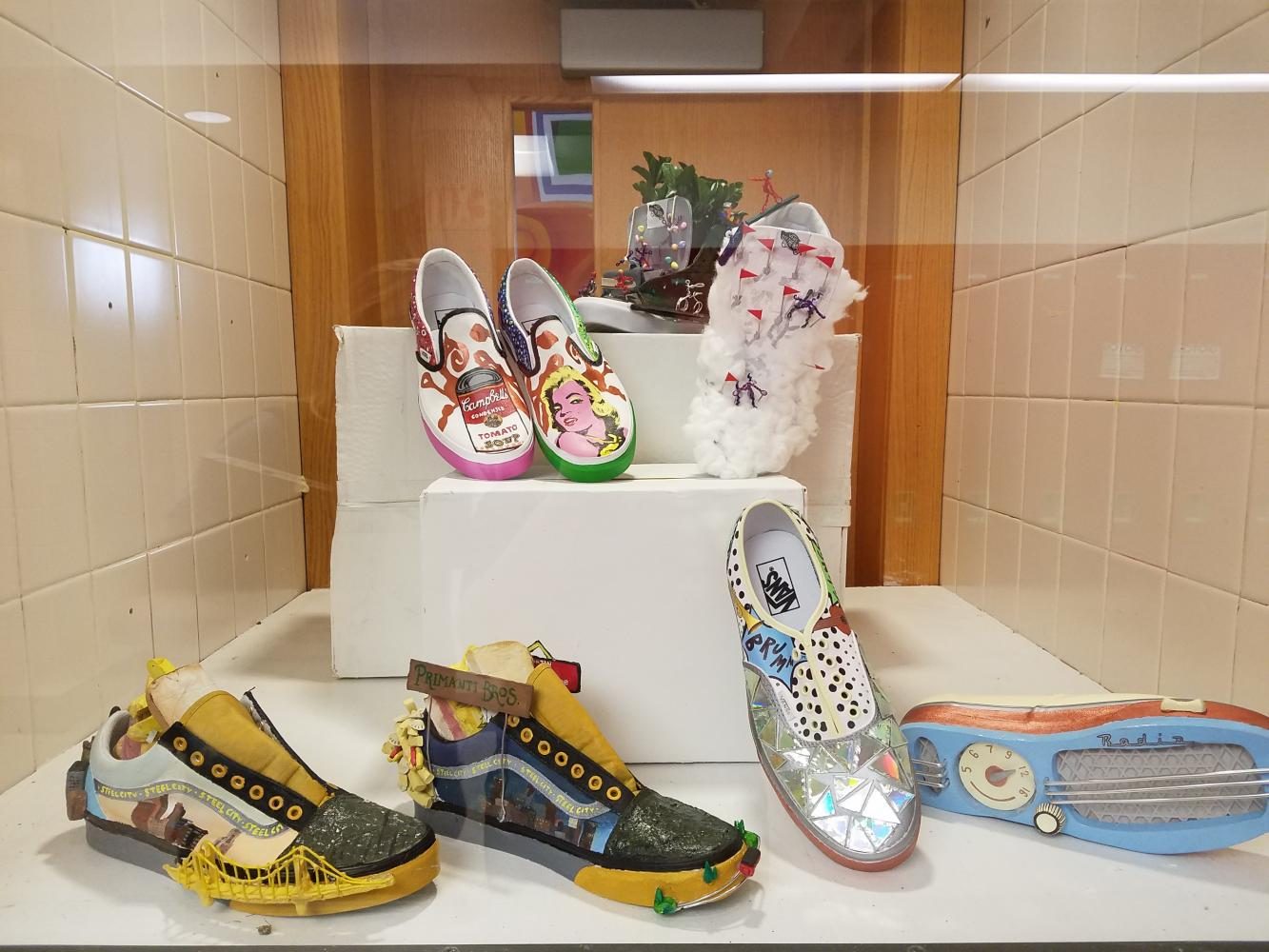 Beginning in January and ending in June, VANS is holding their 'Custom Culture' contest, in which FHS's advanced art students are partaking. In this contest, 3,000 participating schools' art classes across the country are sent several pairs of blank white VANS sneakers which they must decorate with art that follows a theme.
"We fit all the criteria, and the contest had not yet been filled so I decided to enroll FHS. I also thought it was a worthwhile contest and that Freedom truly had a chance at it," FHS art teacher Kaylee Haggerty said.
"Our class worked on four different pairs of shoes, each with their own unique design to fit one of four themes that were inspired by our state's culture, those themes being: Local Flavor, Art, Sports and Music. There was also another requirement, which included making a pattern that reflects the impact of "Technology on Design" that I was lucky enough to be able to do. Every pair of shoes was uniquely different, constructed with the creative ingenuity and cooperation of an inspired and talented group of students," senior Tara Carr said.
The process of the contest is quite long: classes can register between Jan. 3 and Jan. 10 and submit their shoes between March 1 and April 10, which then go through the general voting from April 26 to May 10. From the first vote, the top 50 classes are notified of their placing on May 5. Then, the top five are chosen and notified on May 11.
"Unfortunately, we did not make the top 50 finalists. However, I think this is something we will do again in the future. The finalists all had some neat ideas but I think Freedom could totally be in there," Haggerty said about her students' productions.
The last step in the process is the top five classes taking a trip to Los Angeles, California for the final event that occurs between June 5 and June 8. There, the competition's judges vote for the class that wins that grand prize of $50,000.
Throughout the timelines of this contest, FHS's class had their own agenda:
"We first met and all of the students sketched an idea for each of the topics that the contest required: art, music, local flavor, and action sports. Then, we had discussions where we pulled things we liked from all of the designs and broke off into focus groups for each individual shoe/topic. After that, it was a matter of getting all the elements we needed for the shoes and applying the layers of paint," Haggerty said.
The purpose of the competition, as stated on the VANS Custom Culture website, is "to inspire and empower high school students to embrace their creativity through art and design and to bring attention to diminishing arts education budgets."
The corporation's main goal in setting up and hosting this contest is essentially to help support the arts in high schools in a unique, challenging way.
"The work and dedication we've put into the shoes is undoubtedly a feat on its own. It was the greatest feeling seeing four sets of beautifully done shoes, to see how far we'd come when we only started from a flat sketch," Carr said.
Haggerty has already been planning on having her class participate in the competition again next year, with her hopes set high.
"I look forward to getting the box of four pairs of white Vans next year and trying for it again; the underclassmen all want to do the contest as well, so they are happy we get to try again," Haggerty said.