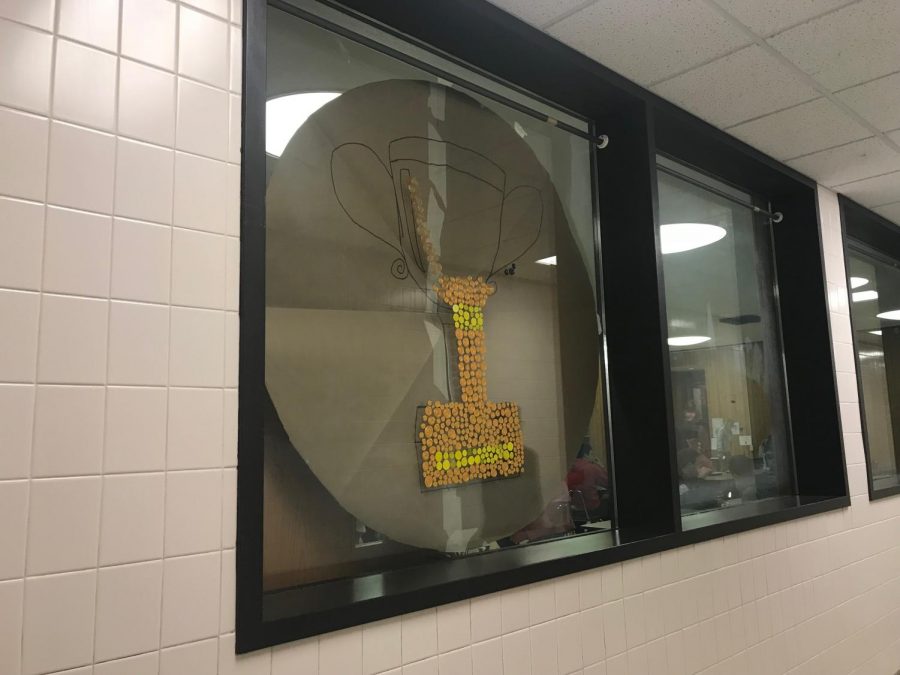 Baylee Stewart
Normally, when walking into the cafeteria, on the left, there are the banners that have been hanging on the windows for over 20 years. However, there is now an array of colored dots on the windows. All of these colors make up designs that are put together with these different colored dots.
The Advanced Art class has created murals on the windows in the cafeteria. These murals depict an A+ paper, the Earth, holding hands, a trophy, a light bulb, a graduation cap, happy and sad faces and a bulldog. All of these murals relate to the students at Freedom.
The window murals are made up of a bunch of dots, which are made out of window paint that the students painted on wax paper. The purpose of putting the dots on the wax paper was so that the paint would not drip when placed directly on the window. This method allows for the students to be able to peel the window paint dots off the wax paper and place them where it's necessary on the windows to create the murals. They can also mix paints to get the desired colors for their murals.
To aid them in placing the dots, the students of Advanced Art drew sketches to place on the other side of the windows. This ensured their placement of the dots and guide them on where to put the different colored dots for each mural.
Art teacher Kaylee Haggerty felt that the windows needed a change since the previous banners have been hanging in the cafeteria for years. A group of students in the Advanced Art class came up with the idea of placing the dots to make a mural instead of making new banners.
The art class started talking about the idea around three months ago and they have been working on the actual project on the windows since November. They started with the A+ paper and the Earth mural first and will move on to the other designs on the windows. 
"It's a very time consuming project because putting each individual dot in the correct spot takes time," junior Allyson Charlovich said.
The project is aimed to be finished soon. The art class hopes to bring some more color into the cafeteria and give students and faculty new art to look at.
"I think that the students and faculty will love it because it is something way different than what was on the windows before. The students will easily be able to relate to each picture and that will make them like it more hopefully," Charlovich said.