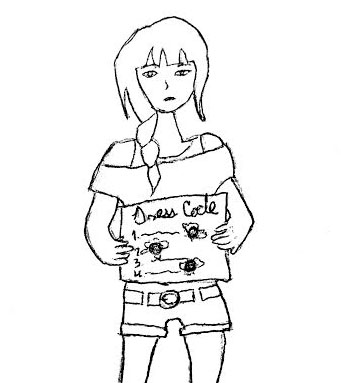 Even though it's a trend for dress code violations—and, as a result, complaints—to be more frequent towards the beginning of the school year, when it's the hottest outside and students spend nearly seven hours of each day in a building lacking air conditioning in most classrooms, the latest round of disciplinary action has led to controversy among students.
At the beginning of the school year, concerns about the dress code ranged from wearing ripped jeans to wearing shorts that were too short. In turn, these students are told to change into clothes from the lost and found, having violated the code. After further inspection of FHS's online student handbook, the current dress code doesn't properly address the recent miscommunications that are occurring between regulations and students.
The dress code requires updates because of its wording. The dress code section of student handbook that is posted on the high school's website contains subjective wording in certain items, resulting in varied understandings based on each reader's interpretation.
In the school's dress code, you can find within item nine, a list of restrictions described as "inappropriate." Here what seems to be the most problematic is the mention of torn clothing. But the question is, "How much is too much?" While having ripped jeans or tops can be considered improper regardless of how badly it is torn, everyone's standards of propriety are outstandingly different. The first two limitations in number nine, visible abdomens and halters, are specific and easy to understand and follow. However, once it gets to the tears, it's completely left up to speculation.
A similar issue also exists within item 13 of the dress code. This rule speaks of inappropriate makeup and body paint. Between makeup and ripped jeans, there is a lot left unclear about just how much it takes to be considered inappropriate. Also mentioned is hair color, which is something that can be difficult to discern as proper or not when there is no issue with students walking around with purple or blue hair. With such an undescriptive rule, students can easily struggle with meeting the hidden standards.
Additionally, in the section prior to the list of dress code items, the handbook states that "students not abiding by the dress code will be sent home to change into appropriate clothing or have their parents bring in a change of clothing for them." However, at the beginning of this school year, students were told that, if they violated the dress code, they would need to change into "smelly" clothes that are left in the lost and found.
Besides this being an unsanitary way to correct a violation, this disciplinary action isn't in the student handbook. So, why are students being told that, if they violate the dress code, they have to change into old, smelly clothing when that form of discipline isn't in the student handbook?
The vagueness of various sections of the code make it difficult for students to live up to the administration's standards of propriety and decency. Therefore, some kids may be getting punished for something they themselves and others their age find no problems with. Alongside this fact, all FHS parents should be aware of the restrictions on dress code just as much as their children. If they have knowledge of what is permitted and what is not, they can prevent their child from wearing something potentially "inappropriate" to school.
Alternatively, if the parents are conscious of the possible disciplinary actions dealt upon students clothed in improper apparel, they could have them take separate clothes in case they are called out. The best emendation that can be made to this situation, however, would be to update the high school's dress code itself to make these vague sections a little more clear.