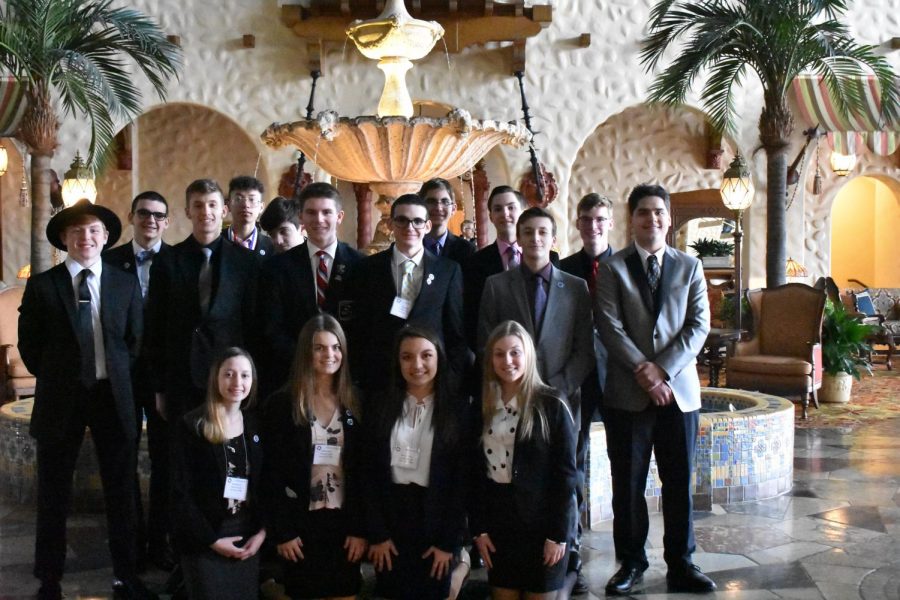 Photo Submitted
Like déjà vu, the members of Freedom DECA headed back to Hershey for another state competition. Held from Feb. 20 to Feb. 22 at the Hershey Hotel, the competition featured 19 Freedom students, who will either competed in the quiz bowl, team role-plays, individual role-plays and some wrote a manual. The trip accompanied 12 more competitors than last year, including seven new faces.

The quiz bowl team consisted of four students: juniors Anthony Clinkscales, Edward Dwyer, Adam Hessler and Charlie White. Juniors Casey Collins, Matthew Levenson and Maxwell Ujhazy created an Entrepreneur Innovation Plan Manual. There was two team role-plays; junior Natalie Dubovi and sophomore Madison Lewis competed in Travel and Tourism Team Decision Making, while juniors Jalynn Falk and Baylee Stewart competed in Entrepreneurial Team Decision Making.

There were eight individual role-plays for the Bulldogs. Junior Evan Aland will competed in a Job Interview, sophomore Josiah Dubovi will competed in Public Speaking, junior Mason Hedge competed in Hotel and Lodging, sophomore Brandon Pecchi  competed in a Job Interview, junior Evan Ruffing competed in the Principles of Business Management, sophomore Jessica Scheel competed in Principles of Hospitality and Tourism, junior Cade Skuse competed in Accounting Applications and junior Cole Skuse competed in Business Services Marketing.

Each one of these students hopes to place high in their respective competition and, hopefully, advance to the national competition in Orlando, Florida from April 27-30. Last year, the national competition was held in Atlanta, Georgia and featured five Freedom students: Then-sophomore Collins as well as Rachel DeCesaris, Michaela Hedge, Jon Kaercher and Daniel White who were seniors at the time.
This year, one Freedom student won the state title, qualifying him for the national competition. Cade Skuse placed first in the Accounting Applications and will be headed for Orlando come late April.

The state competition  included written tests, orientation and interviews for competitors, followed by a dance that night. The next day, the role-playing event began, as well as the quiz bowl. Contests, workshops, interviews were followed by another dance that night. The third and final day was check-out day, concluding the festivities.

The success of the Freedom DECA program has prompted high expectations for the group this year.
"I expect them to try their best, to demonstrate professionalism and knowledge of the content. I also expect them to be respectful and to have fun. I want it to be a valuable learning experience for all competitors," Brad Baldwin said.
For Baldwin, this is a whole new experience, because he will be attending states with the team for the first time since taking over the advisor position last year.

"I am looking forward to seeing results of the student's hard work and for them to have some fun," Baldwin said.