Tractor-trailer overturns on I-79, teacher assists at scene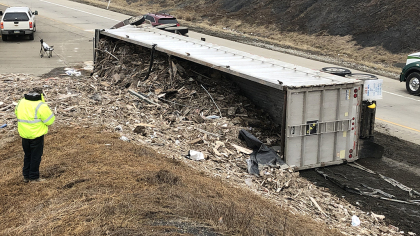 On Feb. 23, at approximately 9:30 a.m., a tractor-trailer overturned on Interstate 79, spilling its contents along the side of the road. According to Pennsylvania State Police, the driver was driving too fast while making a turn and ended up turned over.
Right along the action was middle school Science teacher Richard Heisler, who happened to be passing by, minutes after the accident. According to Heisler, the wheels on the truck were still spinning and several other cars had pulled over to see what was going on.
"So when I got there, I could see the guy's hand on the windshield and I could hear him, he was in pain. He was saying, 'Help me! Help!'" Heisler said.
He stated that he wasn't the only person helping, as around seven or eight others had stopped to assist the man.
"The problem was, though, that we couldn't get his door open, and we didn't exactly know what to do. Well, the driver was actually able to reach up and unlock the door," Heisler said.
Heisler then approached the man and noted the man's "uncomfortable" positioning of his leg, however soon after he was able to remove his leg and stand up.
"He was standing in the truck. I looked down and I saw this red coolant all around him and fuel had started to leak out of the truck. My major concern was some sort of fire catching, but nothing ever did. He still needed to get out of the truck," Heisler said.
According to Heisler, the man proceeded to stand up on the steering wheel and reach high enough so that Heisler could put his head underneath the man's armpit-area to grab him around the waist. Other people who had pulled over helped to safely raise the man out of the truck and lower him back to the ground.
"He was okay and hadn't broken any bones so he could stand up. At that point, a woman who lived in a home nearby brought him a blanket. He was a little shaken up." Heisler said.
The 50-year-old man was treated for minor injuries at a hospital nearby.