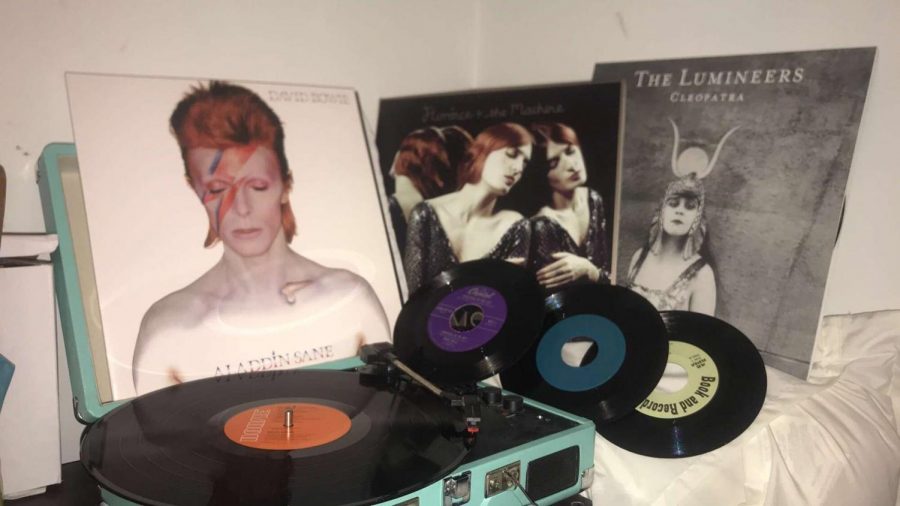 Myah Hrinko
In this day and age, billions of gigabytes of information can be saved, shared or downloaded online in an instant. Music can be purchased or streamed on platforms such as Apple Music or Spotify and can be played easily through Bluetooth speakers or an auxiliary cord in a car. With every song in the world at our fingertips, why are nostalgic music pieces such as CDs, cassette tapes and vinyl records growing in popularity once again?
For people who grew up going to a record store and flipping through thousands of albums in a day, vinyls bring back fond memories of time spent with friends enjoying music. But for younger people growing up in the digital era, there is a deeper reason behind wanting to purchase vinyls or pop on a CD instead of clicking shuffle on a playlist. 
One reason: to get away from the buzzing online world of social media. Vinyls are a tangible item. They are simple, unlike many of the hectic things happening online. Going to a store to pick out a new album is a pastime that can be enjoyed with friends or family that gives people a chance to put down their smartphones. 
According to the Rolling Stones, vinyl records are set to officially outsell CDs pricewise for the first time since 1986, as they have generated roughly $224 million on 8.6 million units sold in just the first half of 2019. These numbers show how records are making a return to the music industry. 
"I got into records because of my dad. He collected them as a kid and I saw his collection and we would always listen to them together. On my 14th birthday he took me to Jerry's Record Store in Squirrel Hill and that's kinda where my fascination started," senior Myah Hrinko said. 
Older music in general is seeing a major resurgence in the entertainment industry. Groups like The Beatles, The Rolling Stones, Led Zeppelin, Pink Floyd and Guns n' Roses are finding their way back to the turntables of many homes. Artists such as Elton John and Ozzy Osbourne are even being incorporated into today's modern music as features on songs with popular artists such as Young Thug, Post Malone and Travis Scott. 
Classic artists are finding their way to the big screen as well. In 2018, the movie "Bohemian Rhapsody" hit theaters. The movie told the story of Queen's lead singer, Freddie Mercury and how he defied stereotypes in the 1970s to become one of history's most beloved entertainers.
"Rocketman," was another movie based on an older musician. The movie is about the story of how Elton John transformed himself from a shy piano player to an international superstar. The movie launched into theaters in May this year. 
"I definitely think that old artists are making a huge comeback, more so because the music can just be more relatable and unique which is personally why I love vinyl records," Hrinko said. 
Vinyl records are relatable for older generations and younger generations alike. While they aren't the most popular form of music, they are definitely making a comeback and bringing older genres of music with it.