All for one, one for all
Wrestling team officially begins season with multiple victories, goals to meet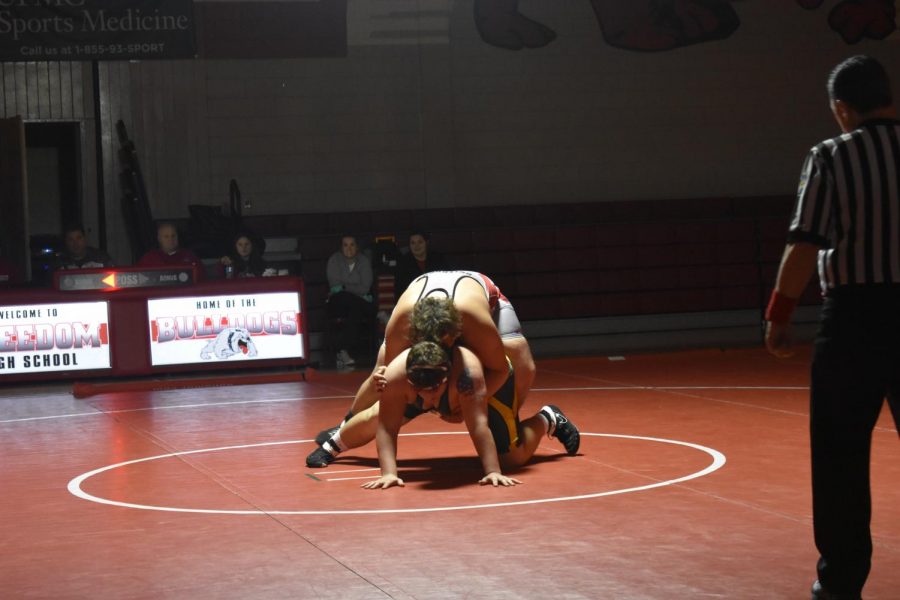 The beginning of wrestling season has officially begun. After weeks of conditioning and practicing for the wrestlers, it is fair to say that the majority are ecstatic for the start of the season. They had several scrimmages to kick off their season. Their first scrimmage was held on Nov. 28 at Seneca Valley. Their second was held Dec. 1 at Canon McMillan. Although the scrimmages are just practices, where wrestlers are drilling and practicing with other students from different schools with no scores being kept, the team started to work towards their goal to dominate the mats from the second they step foot in the room, to the second they walk out.
"Based off of our first few scrimmages and practices we have a very good team and we have a lot of potential to go far in the league. We are well rounded in all of our weight classes all the way from 106 to the heavyweights," sophomore Ethan Wolfe said.
Coach Jim Covert feels that all the wrestlers have worked very hard, and will continue to strive for improvement for the rest of the season. Covert believes that all his wrestlers stand out in their own individual ways and that they all work to build each other's weaknesses up. He is predicting a very bright future for the rest of this season.
"My whole team is starting to bring each other up, they truly care for everyone on the team from the strongest to the weakest link. Everyone thinks of wrestling as an individual sport, but it is truly the biggest team sport because everyone has to work equally as hard to help individuals, as well as the team, meet their goals," Covert said.
On Dec. 7 and Dec. 8 the team attended a tournament held at Chartiers Houston, where Andrew Kalamasz placed 6th, Bryson Miller placed 3rd, Ethan Wolfe placed 6th, and Jake Pail placed 4th, all in their seperate weight classes. Freedom's team placed 12th among the 27 teams that participated, with 99.5 points earned.
"I predict that this season will go just as great, if not better, than last year, for both myself and the team overall. I am really starting to notice hard work ethics in the room. I really just want to enjoy every bit of my last season and make it as action packed as possible," senior Pail said.
On Dec. 12, the team had a home match against Blackhawk High School. After several forfeits, the team still came out with a win, with a score of 54 to 12. With ZJ Ward scoring six points, Ethan Wolfe scored 16 points, Miller scored two points, Travis Kalamasz scored two points, Nick Wolfe scored eight points, and Nando Franco scored one point.
The team plans to carry on their victory streak in the matches and tournaments throughout the rest of the season. Jan. 4 and 5 Freedom will be holding their annual MAC tournament. Freedom will also hold the WPIAL Sub-Sectionals on Jan. 23. Looking ahead, the wrestling team plans to pin their way to victory.