DECA students move on to state competition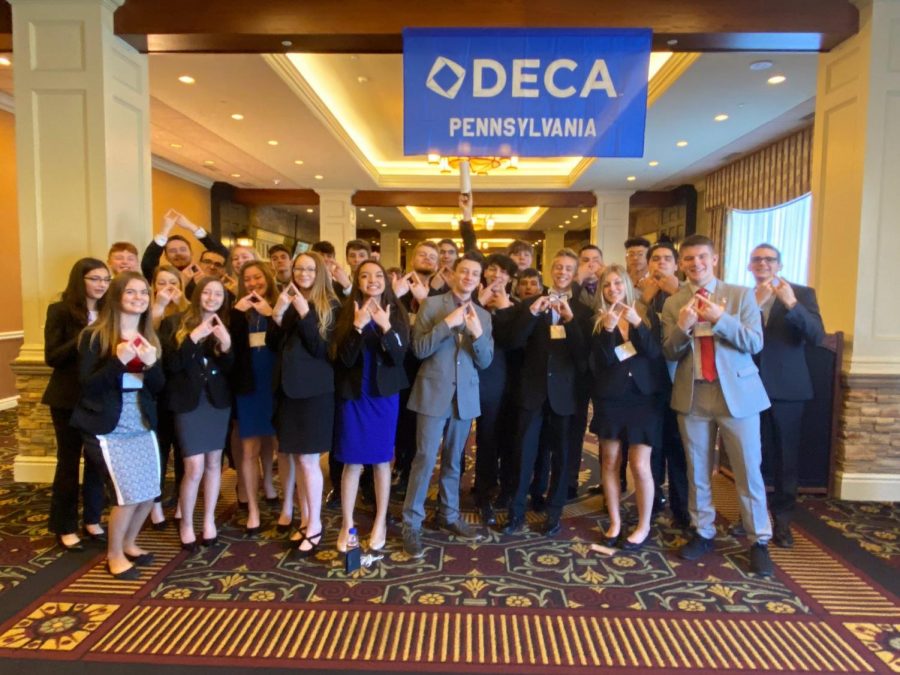 Many students at Freedom know of the organization called DECA. The club is responsible for teaching its members business skills through role plays and manuals. 
Along with the club adviser Kristen Milanovich, 28 students attended the trip to compete in Hershey. There were multiple categories the students could choose to compete in individually or as a group, including against each other.
For the individual events, senior Cade Skuse competed in Accounting Applications, senior Evan Ruffing in Entrepreneurship and senior Hailey Zeidler in Quick Service Restaurant.
The members could also write manuals and have them be judged. Senior Cole Skuse wrote for the Hospitality and Tourism Operations event. 
Students could also choose to write manuals in a group. Juniors Madison Lewis, Joshua Pail and Jay Hessler wrote an Innovation Plan, seniors Casey Collins and Natalie Dubovi wrote Business Solutions, Josiah Dubovi and Evan Aland wrote for the event Innovation Plan. Senior Madison Snavely worked with sophomore Sarah Levenson and freshman Luke Snavely in the Innovation Plan category. Seniors Jalynn Falk and Baylee Stewart wrote for Startup Business Plan. In the same category, seniors Matthew Levenson and Maxwell Ujhazy also wrote a manual.
There are other events besides manuals and roleplaying, seniors Jacob Bauman, Edward Dwyer, Charles White and Noah Spanos competed in the Quiz Bowl competition. Senior Noah Valles competed in the Job Interview portion of the competition. While senior Mason Hedge and junior Jacob Harp wrote for the Professional Selling Event.
Taking a more creative route, senior AntonioClinkscales and Stewart competed in modeling. Junior Sunny Taylor worked with senior Mayson Everette to design a banner for the Chapter Banner Contest that followed the Pennsylvania DECA theme of "Dream Big."
The advancing members were Cole Skuse in third place for his category; Cade Skuse in fourth place for his category; Lewis, Pail and Hessler finished third place in their category and Natalie Dubovi and Collins finished third place in their category. Other finalists whose categories don't have a national advancement, included Valles, who placed in the top six, Clinkscales who placed sixth, along with Taylor and Everette, who placed fourth, in each of their respective events. Cade Skuse was also awarded a medal for having the highest roleplay score for one of his two he had.
For those who qualified for the national competition, the national competition will be held from April 29 to May 2 in Nashville, Tennessee.