How lucky am I…
Senior Rachel DeCesaris closes out her time in Print Media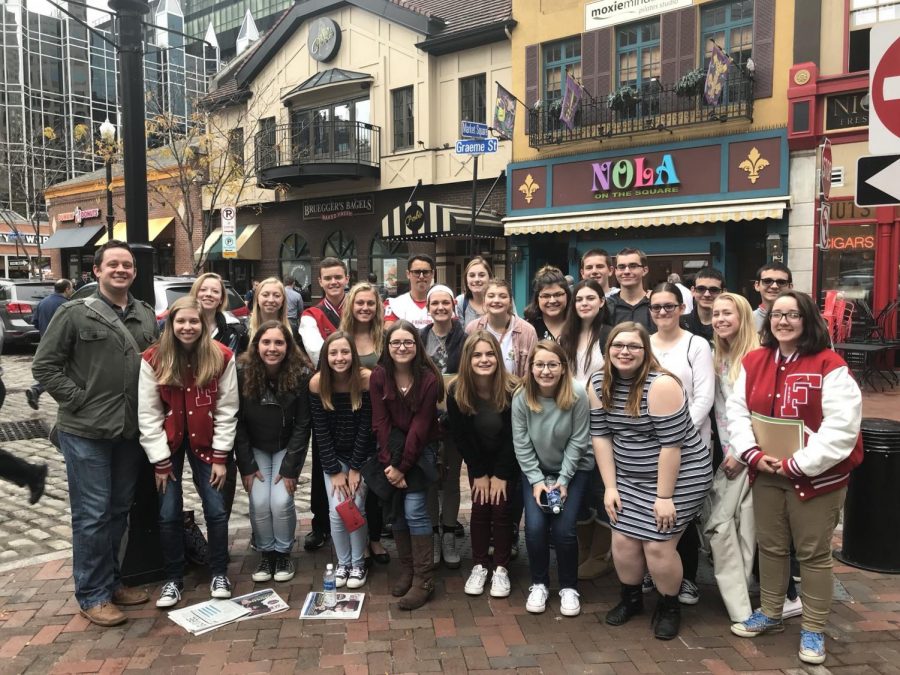 Just give me five more minutes. This is a very common phrase. I remember hearing my mom say it when I was trying to get her out the door to take me to school or begging for five more minutes when taking a test. I wanted five more minutes. I just needed more time. Unfortunately, we don't always get that extra time.
As the end of my senior year comes to a close, I just want five more minutes. I want that extra time to reflect on my entire school career. I want extra time to explain how much Print Media Workshop has meant to me. I need five more minutes.
Just give me five more minutes to have that extra budget meeting. Give me five more minutes to fill out one more package planner form. I need five more minutes to submit the paper or finish an article. Give me five more minutes to say thank you.
I need five more minutes to thank advisor Mr. Aaron Fitzpatrick. Without him, I wouldn't be the person I am today. I can't thank him enough for the countless hours of help and always allowing me to do what I felt was right. I need to thank him for never giving up on me even when that was an easier choice. Without his mentorship, the paper never would've gotten done and this class wouldn't be the same. I have an immense amount of gratitude for Fitzpatrick and I can never repay him for all he has taught me.
I would be remiss to not thank the school board, community and staff of Freedom. Thank you for allowing the staff to tell the stories of the school year. Thank you for the interviews, guidance and taking time to read the paper. On behalf of the staff, we thank you for your support.
I need five more minutes to thank the entire FHS Press staff. Without all of you, this past year would've been a disaster. Without all of your minds and creativity, the paper wouldn't be the award-winning publication that it is. I have never met a more talented group of kids and I am so proud to call all of you friends. Thank you, for always believing in me. You made it so easy to be your Editor-In-Chief. Just give me five more minutes.
I want to thank my amazing and wonderful newspaper editors. Without the eight of you, the layout wouldn't have been good. You guys took blank pieces of paper and turned it into a masterpiece. I am so proud to have worked beside you.
I need five more minutes to explain to my Managing Editor, junior Claudia Huggins, how much she means to me. Anything I ask her to do is immediately done. Even though I don't say it often, I am so proud of her and all she has accomplished. She helped guide me when I was crying because I thought the paper wasn't good. She helped me get through each budget meeting and class edit even if I wanted to throw my hands in the air and give up. She has become an amazing leader, editor and, most importantly, friend.
These past three years have given me some of the best memories I have ever made. I have made long-lasting friendships and became a better person. I have learned that not everything in life can be handed to you, but if you dig a little deeper, everything has a story. It's hard to believe the past three years are coming to an end. Just give me five more minutes.