Hurricane Ian leaves damage in multiple states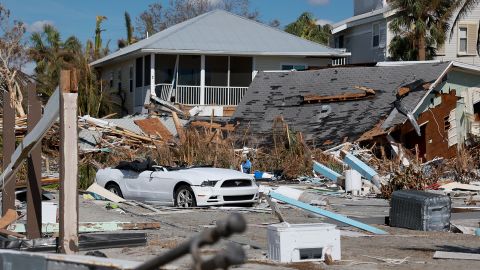 After multiple storms hit this hurricane season, Hurricane Ian caused a lot of damage. After hitting Cuba, Ian was originally supposed to make landfall near Tampa, Florida.  It made landfall as a category four with 150mph winds, and it started as a tropical storm on Sept. 23, later forming into a hurricane on Sept 26. It later switched direction and made landfall in Cayo Costa, near Fort Myers and Cape Coral on Sept. 28. With the intense path change, Fort Myers was left with little days of notice to prepare for the massive and dangerous storm. 2.5 million evacuation orders were sent out. Schools were shut down due to the storm coming. The storm started from a tropical wave, then it formed into a hurricane later on. 
According to National Environmental Satellite Data and Information Service (NESDIS) , Ian was the strongest hurricane to hit Florida since 2018. Also, it was the first category four hurricane to make landfall in Southwest Florida since 2004. This hurricane was intense and dangerous. 
"Ian thrashed parts of Florida's western coast, bringing intense winds, heavy rainfall, and catastrophic storm surges," National Environmental Satellite Data and Information Center said. 
The storm knocked out power left and right, and left 3.4 million people without power. It caused much flooding with the storm surge and the rain that poured down. From the gusty winds, around 120 tornadoes formed, while houses, shops, and buildings got flooded. The amount of water took out many boardwalks and boat docks. A lot of people were left with no option but to rebuild. 
After wiping out Florida, Ian regained strength as the storm headed North towards South Carolina. Making landfall as a category one on Sept 30. It dropped loads of rain and wind as it crossed over and moved north, releasing rain in more states. It was said to be the 5th strongest hurricane to hit the United States. With it being so strong and dangerous, there were at least 102 confirmed deaths. While Florida knew the hurricane was bad, many farms had no option but to let their animals roam the yard. To keep track of the animals, a popular thing to do is put the owner's information on a cow tag and put it on the animal. 
After the hurricane cleared out, members of Lee county, Florida were to boil their water for it to be safe. Schools were also allowed to reopen. The storm caused around 67 billion dollars of damage.
The hurricane season is still going on. Some tropical storms have formed in the Gulf but are not in line to hit Florida. Florida is ready to rebuild and strengthen in preparation for the next storm. All areas plan to rebuild everywhere stronger than before.