Mamba mentality
How the world reacted to Kobe Bryant's death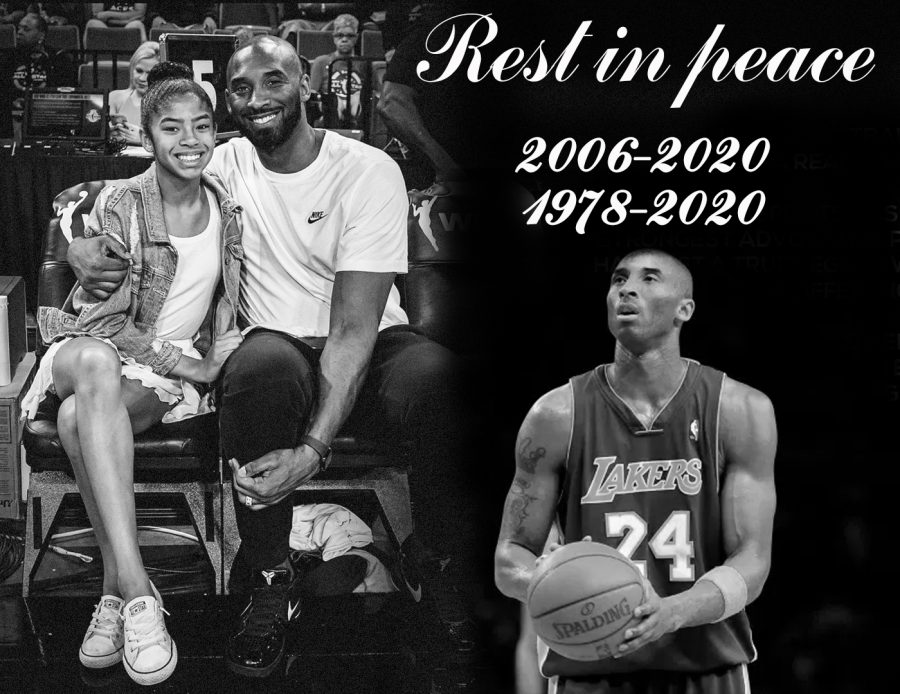 On Jan. 26, 2020 the world changed forever as basketball legend Kobe Bryant died in a helicopter crash that occurred in the hills of Calabasas, Calif. Kobe, along with his 13-year-old daughter Gianna and her teammate, Alyssa Altobelli and parents Keri and John Altobelli, teammate Payton Chester and her mother Sarah, their assistant coach Christina Mauser and the pilot, Ara Zobayan, all perished in the crash.
Kobe was drafted into the NBA directly out of high school in 1996 and went on to play 20 seasons with the Los Angeles Lakers. Kobe won five championships and two finals MVPs in 2009 and 2010. He appeared in 18 All-Star games, winning four All-Star MVPs and was named MVP of the league in 2008. He is the Lakers all-time scoring leader and was the third highest-scorer in league history with 33,643 points until Lebron James passed him the night before his death. 
The achievements Kobe made on the basketball court were incredible, but his work ethic and determination to succeed was what motivated generations of people throughout his career. Kobe was known as the "Black Mamba," a nickname he gave for himself to help him through a rough patch back in 2003 and 2004 when he was accussed of sexual assault. The nickname stuck and from that came the term "Mamba Mentality."
Kobe himself said that Mamba Mentality means, "just trying to get better every day. The simplest form of just trying to get better at whatever you're doing." 
This idea seems simple and that's because it is. Work hard and strive to get better day in and day out. This philosophy doesn't just apply to athletes, it applies to everyone which is why it became so popular and resonated with so many. 
Kobe's impact on the world was huge. For basketball fans, Kobe is one of the greats. For others around the world, he is an example of excellence and character. Even after finishing his career as a basketball player, Kobe had that same Mamba Mentality when it came to his other work such as the film "Dear Basketball" that he created which won an Academy Award for Best Animated Short in 2018. He also launched Granity Studios, which is a multimedia company focused on inspiring content for young people and wrote a book "Mamba Mentality: How I Play the Game." 
Upon the news of Kobes death, people worldwide began to react. Social media was filled with tributes, photos and quotes of the legend. Professional athletes from football, baseball, basketball, hockey and soccer shared their shock and sadness. NBA teams who played that same day decided to honor him in a unique way. In every game, teams either took an eight-second backcourt violation or a 24-second shot clock violation to honor both numbers Kobe wore in his career.
Athletes changed their jersey numbers in the days to come, such as professional hockey player Alexander Ovechkin who wore number 24 in warmups. The NBA team the Dallas Mavericks even decided to retire the number 24 completely in their organization. Nevertheless, the Lakers organization was affected the most by the passing of Kobe. Their game, scheduled to play just two days later, was canceled as the organization mourned. 
Before their first game back, the Lakers honored Kobe and then Lebron James stood in centercourt of the Staples Center and gave a speech about the legacy and the type of man and father that Kobe Bryant was. Kobe was honored at the Pro Bowl, the Super Bowl and sporting events across the world. 
Here at Freedom, many students showed their support by wearing their purple and gold to school. On January 27, the girls basketball team held a 24-second moment of silence before the start of their home game and on February 4, the Freedom student section organized a purple and gold theme for the boys home basketball game to honor Kobe. 
Bryant's death impacts young adults and teens tremendously. Ask anyone born in the last 20-30 years what they say when they throw a paper ball into a trash can. Their answer will most definitely be "KOBE!"  
Since the crash, investigators have been working to piece together exactly what went wrong. They believe that the helicopter was not equipped with terrain-detecting technology. Couple that with the fact that on that morning there was very thick and intense fog, it is believed that the pilot simply did not see the hillside. 
An official memorial for Kobe and his daughter Gianna was set for February 24 at the Staples Center in California. This date is significant as the month of February represents the number that Gianna wore and 24 is the number that Kobe wore. Thousands of people filled the streets to attend the memorial and pay their respects to the legend who was Kobe Bryant. 
Inside the Staples Center, a two-hour memorial took place. Kobe's wife Vanessa spoke to start things off and was followed by other celebrities and NBA players such as Shaquille O'Neal, who won three championships with Kobe and Michael Jordan. There were musical performances by Beyonce and Alicia Keys and other speakers who also took the stage. Fans who purchased tickets filled Staples Center. Those who weren't able to attend the event paid attention online or watched it on TV as they remembered and paid tribute to their favorite player.