Movie theaters vs. movie rooms
Streaming services are taking over other entertainment industries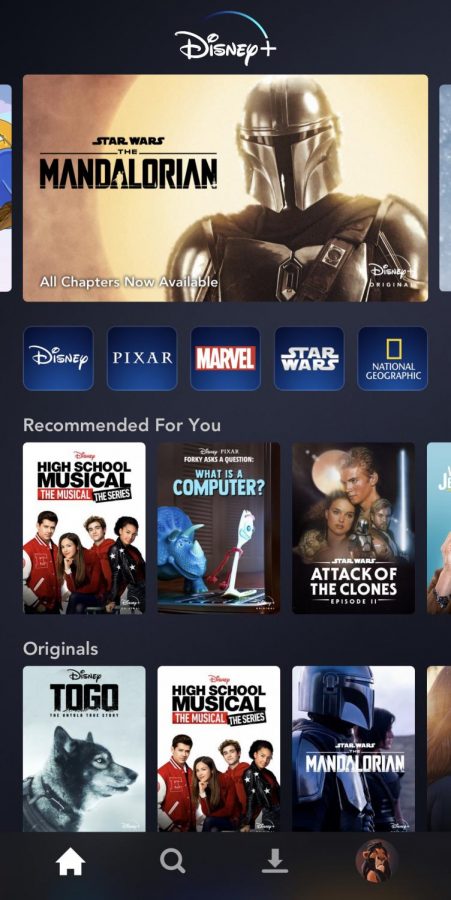 Mason Hedge, Managing Editor (Print)/Co-Distribution Director
January 31, 2020
When it comes to the world of entertainment, there is so much to watch. Whenever a hot new movie is released, people go to movie theaters to watch the film. Whenever there is a new television show to watch, people turn on their TVs and tune in. However, these movie theaters and television show companies have had some competition more recently now than ever, and it's called streaming services. 
Streaming services have been around for a while and are already very popular, like Netflix, Hulu and more. However, on Nov. 1, Apple TV+ was released to the world. They offer a wide range of exclusive television shows for everyone to watch, like Dickinson, Snoopy in Space and more. After a seven-day free trial, it is available to watch for only $4.99 a month, but it is included with the purchase of a new Apple device for one year. This means that over 160 million people are going to have access to this streaming service, but the number of current users is not yet available.
Shortly after Apple's streaming service was released, on Nov. 13, Disney+ entered the world of streaming services as well. It launched over 7,000 exclusive and original television episodes, along with over 300 exclusive and original movies for its users to access all the Disney entertainment they want. On its first day, more than 10 million people signed up and the number continues to rise today.
With all of the new streaming services now available to use, it raises a question that many people have asked before: Are these companies taking over the movie theater and television show industry?
As it turns out, streaming services are becoming more and more popular every year. A study from Forbes shows that last year, 69% of consumers signed up for some kind of internet streaming service, while only 65% of consumers paid for satellite or cable. Forbes also stated that in recent years, major movie theaters — Regal Cinemas, AMC and Cinemark, for example — have started subscriptions that give people access to movie theaters or apps that allow people to buy tickets ahead of time. This was done to raise the competition against these streaming services.
There are those who like the old way of just watching television shows on cable or satellite or going to a movie theater to see the latest movies. However, more and more people are starting to prefer streaming services over going to the movies or watching cable.
"I use a streaming service once a week, whether it's Disney+ or Netflix," senior Natalie Dubovi said. "I personally would prefer to watch a movie on a streaming service because you can watch it at your own convenience and at the comfort of your own home."
In the end, streaming services are getting more popular every year. Whether it is noticeable or not, they are slowly taking over the movie and cable industries. If these companies want to keep their profits high, they may have to offer something to society that no one has ever seen before. On the other hand, maybe streaming services will just dominate these companies in the future, and it seems like they are already well on their way.