Number of inductees nearly doubles in National Honors Society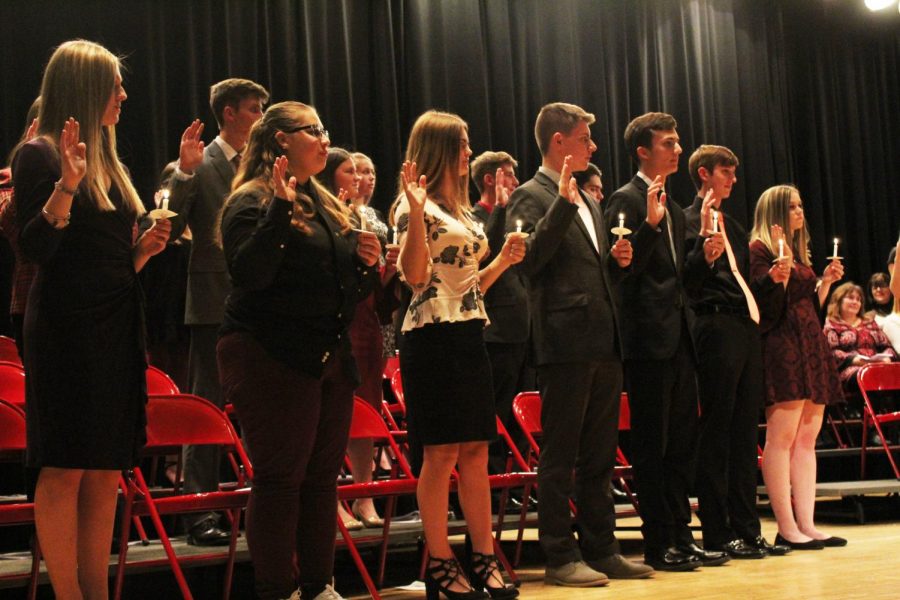 The National Honor Society (NHS) is a national organization that most people have heard of in their lifetime. Only Freedom students who have a strong academic career, as well as a strong character, can be accepted into NHS. This year, the National Honor Society has inducted 22 new students making the total number of members 31 with the officers being seniors President Robin Kaufman, Vice President Claudia Huggins, Secretary Melissa Keith and Treasurer Jordyn Wright.
To be an NHS member you must have at least a 3.6 GPA, be an active volunteer in their community and have a strong positive character. The juniors who qualify with the minimum GPA are invited to be a member to take an application to fill out their characteristics and volunteer history. Head of the society, Ms. Ruthanne Gudzan, along with a group of anonymous teachers from the high school, go through the juniors' applications to find those who qualify on being a good person who is active in their community. Volunteer work can be helping out at an event at the Conway Fire Hall to helping with the Elementary Olympics. Any kind of volunteer participation in an event happening in the community is fair game to be considered volunteer work. To maintain a membership you must maintain a GPA of 3.6 and required to complete 10 service hours outside of the NHS service projects, attend all meetings and keep a good reputation.
Being in NHS and getting into the routine of helping out with local events can help with your senior project throughout your last year at Freedom. Freedom senior projects require 20 volunteer hours and reflections on them in your presentation.
The society started a recycling program last year in the cafeteria for all plastic from water bottles to plastic fruit cups and silverware. The members also tutor at FHS for any students struggling in any of their classes. This year, NHS plans to expand the current recycling program as well as their tutoring program. NHS would like to start an Adopt-A-Highway program and donate more to local charities this school year.
"We always aim to maintain the pillars of scholarship, leadership, service and character to be role models for our school," Kaufman states.
"I'm excited to see what happens. I'm looking forward to volunteering and doing all the service projects. I'm also looking forward to tutoring kids who need help in their classes," new inductee junior Shyann Komara said, "It's a great honor and something I always wanted to be a part of."
"I look forward to the service projects we will do every nine weeks" inductee senior Mikayla Evans states.
"I look forward to making a difference, and having positive impact on the community as well as individuals through the projects and activities that we will complete within the National Honor Society," inductee junior Max Ujhazy decribes.
All in all, you don't need to be in NHS to start making an impact, but it helps. Volunteer work in the community can be achieved independently as well as marketing yourself as a tutor either on the Beat or with flyers, staying on top of your education and just taking care of yourself and others and knowing what is right and wrong. All of these qualities are found in all NHS members and the organization amplifies them outward to the community.