The legacy lives on
Community mourns loss of Young's Custard Stand's legend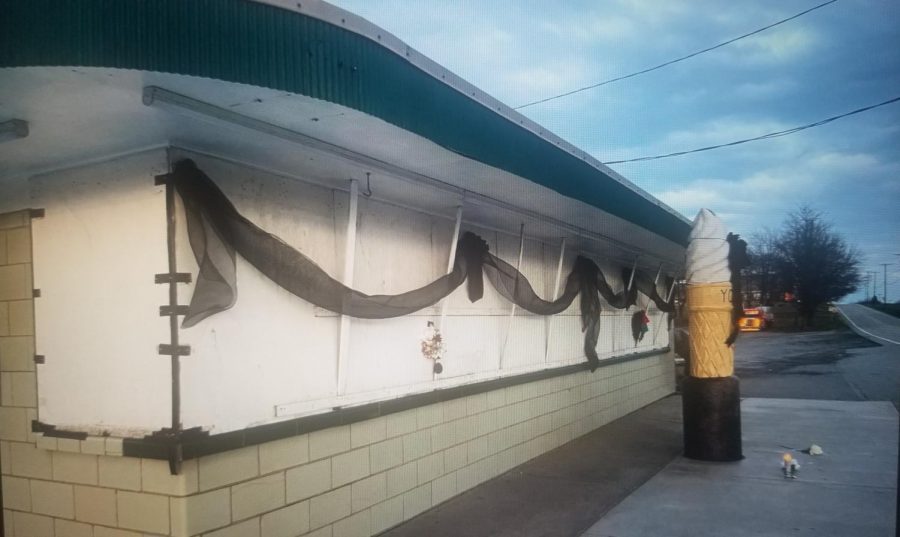 "What's the flavor of the day?" A common question asked by customers as the sliding windows open at a local ice cream shop and the employees are there ready to take your order and fulfill your sweet appetite. Whether it is a classic custard ice cream cone, a hot fudge sundae, a milkshake or even a savory treat like a footlong hot dog or pizzaburger, this place has something for everyone to enjoy. Arriving in classic cars, motorcycles, pickup trucks and everything in between, the parking lot is always filled, with lines stretching down Route 68 nearly any day of the week. Right along Hartzell School Road and the outskirts of Zelienople, Pa., lays a family-owned business, Young's Custard Stand. 
While many may classify this establishment as a small business, it is anything but that. From serving people in the New Sewickley community, to even branching out to "regulars" outside Beaver County, this place is a favorite for all and draws in people from coast to coast.
"…We live in Arizona, but would always visit the Custard Stand when visiting my sister and her family," Leslie Griffith said on Facebook.
Due to COVID-19, Young's Custard Stand put a halt to opening up to the public early this spring. Normally, this family-run business opens for the season in April and closes in late September. With mask mandates and social distance requirements, Young's didn't want to open until it was fully safe for not only their employees, but also for the community that comes out and has supported them for the past 72 years. After months of eagerly waiting, customers were able to get their first scoops of the season. On Friday, May 22, they slid open their glass windows for another season and began giving their customers their long-desired sweet treats.
By enforcing customers to wear masks and continue following social distance guidelines, the family kept the business operating for another year. 
"We know this is still a crazy time & there will need to be some changes. It's not about you, it's not about us, it's about respect for others. We ask that you please wear a mask & do your best to keep your distance while in line…." Young's Custard Stand said from their post on Facebook announcing their opening date. 
From open to close, Young's Custard Stand kept their business open for the public and was fortunate enough that they did not have to close due to cases rising and strict state mandates. They were able to serve the public in a way that was much like how they would in any given year, just with a few necessary changes. As they say, "another great season in the books."
Unfortunately, Paul "Windy" Young, the owner of Young's Custard Stand, passed away at the age of 79 after a battle with COVID-19 on Nov. 19. 
"It is with a heavy heart that I share with you all that we've lost that quick-witted, crabby, sly smirked, long-winded, happy to serve man in the middle. pap, dad, husband, jagoff, windy, paul, Mr. Young, the ice cream man, whatever you knew him as lost his (thankfully short) battle with COVID on November 19th [sic]," the announcement post read.
With over 1.6 thousand comments and 750 individuals sharing the post, Young's widespread customer base was heartbroken to hear the news of Windy's passing. Even local news stations, like KDKA, covered stories that shared the impact he had on the community.
After taking over from his parents, Roy and Alma Young, in 1968, Windy, a 1959 Freedom graduate, has been in charge of the fan-favorite Young's Custard Stand for 52 years. While people came to satisfy their cravings, many came to see the sweet man that always served them with a smile and told the best stories.
Known as the "Ice Cream Man," Windy did much more for the community than just serving them ice cream through a window every day. From supporting local baseball teams, supporting school newspaper staffs, to even serving with the Zelienople Fire Department for over 25 years, this man singlehandedly left a huge impact on this community. He was also an avid bowler for over 45 years as he traveled the country to participate in ABC Tournaments with his "bowling buddies" and one of the founders of the PA Snowseekers Snowmobile Club.
"This man touched many of thousands of hearts," Jeffrey Crespo said on Facebook.
Even catching the eye of Hollywood, Young's Custard Stand was featured in "The Prince of Pennsylvania," a film a then unknown 23-year-old actor named Keanu Reeves. It was a key location for the movie where it was transformed from an ice cream business to a movie set shortly after they closed for the season in 1987, and Windy got to witness it all happen. 
While the Young family was overwhelmed with the news of Windy testing positive for COVID-19, the support from the community made going through this difficult time so much easier. He leaves behind to cherish his memory his wife of 59 years, Geri Gettman Young; his children, Paul W. "Rusty" Young and Michelle (Steve) Podlaski; his grandchildren, Carli (Tanner) Gilchrist, Samantha Young and Tyler and Katie Podlaski; his brothers, Leroy (Twila) Young, Eugene (Carol) Young and Woodrow (Rose Marie) Young; his sister-in-law, Beverly Kradel; several nieces and nephews and numerous cousins.
While Young's Custard Stand might never be the same again without Windy standing at his window, he left behind an impact on this community unlike any other. The Young Family plans to continue his legacy and keep this Beaver County landmark on the map for years to come as they remember the "Ice Cream Man" for everything he has accomplished.