Boys ready to make playoff run
The boys' soccer team gets ready for playoff games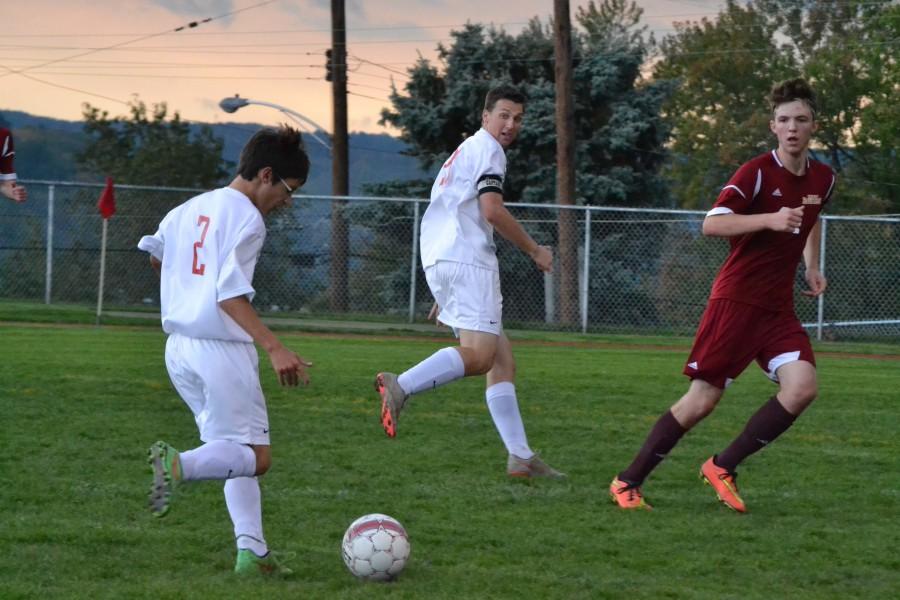 Hours of practice, plenty of sweat, 17 regular season games and a deep sense of commitment to the team have led the boys' soccer team to the much anticipated playoffs.
Since the start of their season, the boys' have focused on one main goal for the year, making it to the playoffs, but at the start of October there was a level of uncertainty surrounding them actually being able to accomplish that goal. With a finishing with a section record of 9-3-1, the boys have guaranteed themselves a spot in the first round. Now the only question is how far they will be able to make it.
"I see us making it far into playoffs. I believe that we have the perfect balance of young talent and veteran leadership to do big things," Sophomore Santino Guandolo said.
As the boys get ready for their shot in the post-season, the seniors on the team are trying to make the most of their final games. With the celebration of Senior Night on Oct. 14, the seniors were reminded that their time playing soccer as Freedom students is heading towards its end.
"I'll miss the camaraderie of the team most," Senior RJ Schlegel said.
Seniors Eric Eisenbrown, Vince Rose, RJ Schlegel, Jacob Charlovich and Keegan Schuller played their last home game on senior night, and their last section game on Oct. 17 against Sewickley Academy. Eisenbrown scored one of the goals in the game against New Brighton.
As the seniors' time on the team is coming to a close, the underclassmen are providing hope that the team will continue to be successful in future years.
"A big goal for me personally is to gain a position of leadership and a starting spot. As for the team, I would like to see us become the section champs through our mixture of hard work, dedication and our growing talent in years to come," Freshman Nick DiNardo said.
The team owes a majority of their success to their ability to play and think as a unit, which is a product of long practices and team bonding.
"My favorite part of this team is the overall amount of fun that we have and the nonstop laughs that we share. We, as a team, get along really well and this makes for an enjoyable experience at all times.," Guandolo said.
As the season powers on, the boys continue to spend the crisp fall evenings practicing, playing and enjoying time together, on and off of the field.
"My favorite part of being part of this team is getting to know one another better as an individual, and just playing as a team," Sophomore Jon Kaercher said.
At press time, the boys are ready and awaiting their chance to compete in the playoffs. The seniors and underclassmen alike are hoping to extend their time together by making it through many rounds in the playoffs.