Bulldogs gain support
'Dawg Pound' roars in Bulldog Stadium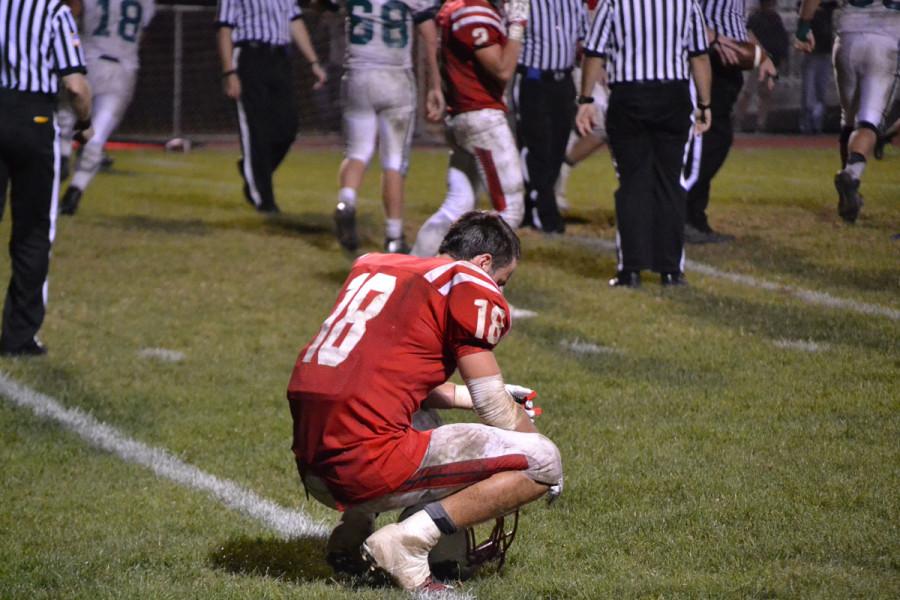 The Freedom Bulldogs Football team has had a 3-20 record over the past three seasons, and their newly formed fan base is cheering them towards improvement. Starting with the first home football game, the Bulldogs have had a student section, being referred to as the 'Dawg Pound', in the right corner of the bleachers. This group of students, along with some alumni, have been cheering on the football team weekly.
Each home game, the student section will wear outfits to a certain theme. As for the first home game on Sept. 11, the theme was 'camo'. Students were decked out in camouflage clothing and sported face paint. They also held enlarged poster boards with photos of members of the football team. With the Sept. 18 game students wore hula skirts and floral shirts when the theme was 'beach'.
With this new support, the football team has become more aggressive on the field as well. By being 1-2 in the first three games, the Bulldogs have visualized that this season may be different from the rest.
In their first home game, the team won 7-0 against Mohawk. This came after a touchdown in the beginning minutes of the game. Though Mohawk almost scored in the final minutes, Freedom maintained their lead and ultimately won.
When the Bulldogs faced the Laurel Spartans, a different side of the football team was displayed. After losing one of the team's captains, Jacob Pinkerton, right before halftime, theteam stayed strong until the very last play of the game.
The team managed to keep an upper hand on Laurel until the 4th quarter when Laurel scored, tying the game at 21-21. The game eventually went into overtime, which in high school football is entirely different from that of the collegiate or professional levels. When this occurs, the teams will do a coin toss, where they will choose who will begin. Each team will start at the ten yard line and be given a chance to score. The first team to score over the other team will win.
In the first overtime, Freedom started and scored after their second play. Laurel also scored, yet on their third play making the game tied at 28-28. After successfully completing a field goal, Laurel lead the second overtime at 31-28. The Bulldogs, on the second play, fumbled the football, which Laurel recovered, ending the game.
Even though the team was discouraged after losing, the Dawg Pound stayed strong and made sure the Bulldogs were acknowledged for their efforts. As for the upcoming themes the Dawg Pound will be using are 'red and white' on Oct. 10, 'pink out' on Oct. 23 and 'superheroes' on Oct. 30.