Checking into the new season
Five Freedom students begin their hockey season with the Central Valley team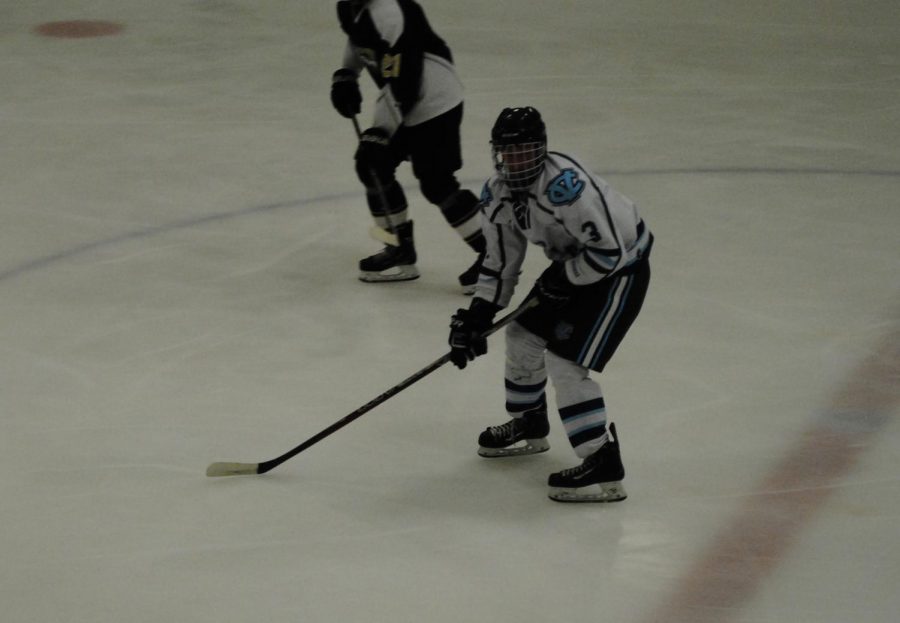 Slap shot! Hockey season is back this year and along with the professionals in the NHL, local Freedom students have begun their hockey season. Senior Jimmy Kelly-Tindell, juniors Sam Romutis and Riley Adams and freshmen Marc Evans and Matthew Keller all began playing games for the blue and white of the Central Valley Warriors this month. Kelly-Tindell, Romutis, Adams and Evans take part in the varsity team while Keller plays on the  junior high team.
Last year, Freedom students that played hockey took part in Blackhawk's program. Due to an increase in the number of players for Blackhawk, the Freedom players joined the Central Valley team this season. The program at CV also plays host to students from Riverside, Beaver Falls, Hopewell and New Brighton. With new players comes new expectations for the team.
"Our goal this year is to win the championship. Last year, [Central Valley] made it to the semis. With new players this year we should win it all," Adams said when asked about the team's goals.
The Warriors have been conditioning since August and began on-ice practices in September. The team practiced at PPG Paint Arena on Sept. 9, 2017.
"It was really cool knowing that some of the best players on earth play here and just getting to practice on that ice was a once in a lifetime experience," Romutis said about the practice session at PPG Paints.
In addition to practicing on professional quality ice, former Pittsburgh Penguin Tyler Kennedy made an appearance at their practices on Sept. 23 and Oct. 7.
If practice was going to pay off for the Warriors, and if they were going to reach their goals, a successful start to the season would be ideal.
"[A good start] is important because it gives [the team] momentum going into the bulk of the season and playoffs," Adams said.
The team opened their season on Oct. 12 at Brady's Run Ice Rink. Despite a 5-4 loss on a shootout to Ringgold, there were positives to take away from the game.
Both Adams and Kelly-Tindell hit the post on separate occasions. Adams in the first period and Kelly-Tindell in overtime that would've won the game. Neither took place in the shootout in which the team fell 2-0.
The Warriors followed up their first game with an 8-2 loss away against Burrel on Monday, Oct. 16.