DECA students travel to ICDC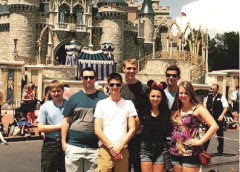 After months of studying and hard work, DECA students traveled to nationals where they competed with over 18,000 DECA members from across the U.S. and around the world.
Nationals, also known as the International Career Development Conference or DECA ICDC, were held in Orlando, Fl. this year.
"[Places] such as Canada, Puerto Rico, Guam, Korea and China participate in ICDC," Freedom Area's DECA sponsor, Mrs. Beth Majors, said.
DECA has many different business-related categories that students can compete in at the district, state and national levels. Some examples include the Business Services Operations Research, Business Buying and Merchandising and Marketing Management Series.
"I was in [the category] called "Business Services Operations Research" and I was in this category with Junior Louis Dubovi," Junior Dereck Majors said. Majors was among seven students who made it to the national level.
Of the seven students who attended ICDC, four of them, working in groups of two, wrote manuals. The categories they wrote the business manuals for were Business Operations and Fashion Merchandising and both had to create a corresponding presentation to present to judges. The other three students attended leadership workshops during their time at ICDC. The judges would then ask questions about the manual, and the students would need to answer quickly without hesitation as that is what they are being judged on.
"The most difficult thing we had to do was to put our thirty page manual into words to be able to present it to the judge," Majors said.
"The objective of this year's [manual] was to find generation gaps in customers and find solutions of how to open more services to under serving generations," Majors said.
His goal was to find what age groups his business was over or under serving. He and Dubovi found problems in the business and explained what they could do to fix said problems in their manual.
The other group competing consisted of Sophomore Maddie Edder and Senior Zach Kugel, who competed in the "Fashion Merchandising Promotion Plan" event.
"[Kugel and I] created an 11 page manual of a seasonal plan for the bridal shop Ribbon in Beaver. We made it to nationals because we placed third in the state with our manual for the Fashion Merchandising Promotion Plan," Edder said
Each year, there are some very outstanding students who work very hard for achievement. This year, Ryan Gray was a big help for the sake of Freedom Area School District.
"[This year] Pennsylvania won an award for advocacy and Ryan was part of the team to achieve this," Mrs. Beth Majors said.
Although daytime hours at ICDC were spent attending workshops or working hard in competition, DECA students were able to do some activities in the evening.
"My favorite part of the trip was definitely just getting to spend time with the whole DECA family one last time. We had a lot of fun together just like we did last year in Atlanta. My least favorite part was finding out that Zach and I didn't make it to finals to compete for a national title," Edder said.
It was an achievement for DECA students to make it to nationals. Although made it to finals to compete for a national title, plans for furthering their achievements is in the works.