Fighting for freedom
Freedom graduates share their experiences about the military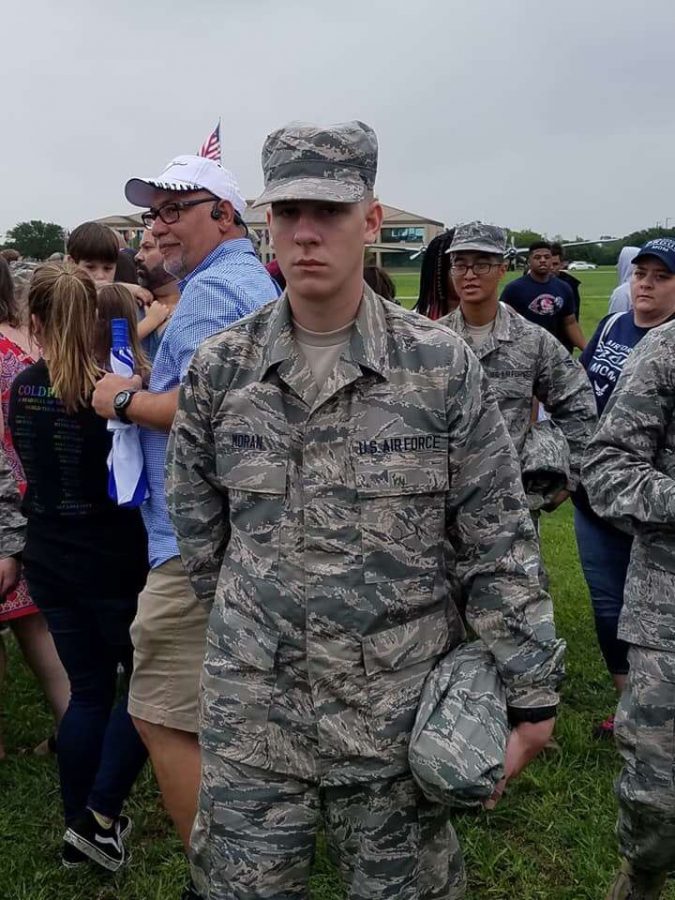 People typically lose contact with each other after high school, some more than others. It's oftentimes hard to keep up with where everyone is, considering there are so many options for what to do after graduating from high school. One of these possible options is joining the military.
There are many Freedom graduates who have enlisted in the military because of the endless possibilities. There are over 800 jobs in the military and nearly 800 bases in more than 70 different countries.
Alum Joey Tice graduated from Freedom in 2018. After graduation, he enlisted in the United States Navy. Tice is an IC, which stands for "Interior Communications."
"I will work on all communications going in and out of the ship. I can get qualified for other jobs on the ship though. For example, I can get qualified to be a part of a boarding party. That's the people that go off of the ship and onto another ship to fight pirates on the ship to save our other troops. My job is really fun and there are a lot of great people in the military. I plan to stay in the Navy until they kick me out for being in too long," Tice said.
RJ Schlegel, class of 2016, joined the Marines after graduating high school. Despite the difficult times he faces, he really enjoys what he does.
"My job in the Marines is a 3381 Food Service Specialist. It has its bad moments and its good moments, but the good ones make it worth it. I plan on staying in the military as long as they'll let me stay in," Schlegel said.
Ryan Whipple, class of 2014, has similar feelings about the military. He left for the Air Force shortly after
graduating high school as well.
"I plan to do a full 20 years and retire. I'm financially stable and I truly enjoy the structure and friendships I've made so far. The bonds I've made with the people I serve with are unlike any I had beforehand," Whipple said.
After his training in Texas, Whipple was sent to his first duty station at Holloman Air Force Base in New Mexico. He spent a little under three years there and spent some of that time deployed to Qatar. He then was sent to Kunsan Air Base in South Korea for a year.
"Korea was most definitely the best year of my life. I had a terrific time getting to travel the peninsula and other countries in Asia," Whipple said.
After that year, he was sent to where he currently is stationed in Germany. He'll spend at least another year in Germany before being relocated.
Cameron James, Freedom class of 2016, is another graduate who has gotten to travel quite a bit in the Air Force.
"I've been stationed to two bases in Texas, which allowed me to explore all of the southern area of the US. I was then sent to do a tour in northern Japan, which has allowed me to see all of Japan and places like Tokyo, Sendai, Fukushima, Hokkaido, and many other places. I just got my next assignment to Destin, Florida so I'm excited for that!" James said.
He's wanted to join the Air Force for many years.
"My biggest motivator for joining the military was to serve and give back. I wanted to be part of an impact on our nation and help out," James said.
Many men and women join the military because they want to make a difference and serve their country. However, there are other factors that play into their decision.
Ian Moran graduated in 2018 and decided to join the Air Force because he didn't want to be stuck with college debt. He also thought it would be interesting to go out and see to the world.
"I've always had a really high respect for military members, so to say I'm one of them is a great honor," Moran said.
Whipple also joined the military for more than just the fact that he gets to serve his country.
"I just felt there was more to life and more things outside of Pennsylvania. I have a love for my hometown, but I really didn't feel like I fit in there, and I wanted to see more of the world both in the U.S. and overseas," Whipple said.
Freedom is a small school in a small town which prompted many of the graduates to enlist.
"You will meet so many people from all walks of life and with an open mind, your perspectives on so many things whether it be politics or just the scope of the world and how you view it, will undoubtedly change. Being surrounded by so many varying cultures is truly eye-opening," Whipple said.