Gaining momentum after first 2 section wins
Bulldogs top Fort Cherry, Carlynton, junior Tyler Mohrbacher leads team in points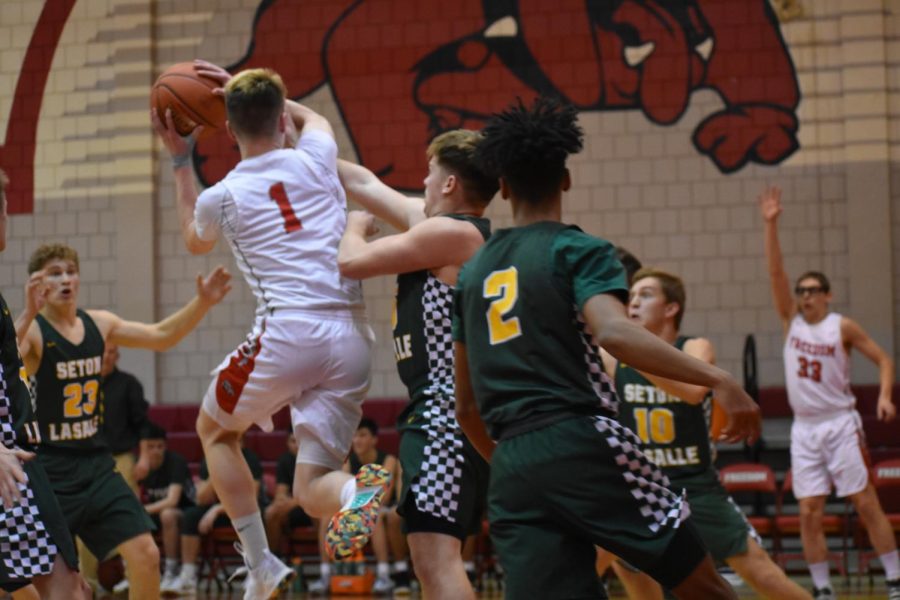 Myah Hrinko, Photo Editor/Social Media Director
February 1, 2019
Freedom boys basketball has always had filled stands for their games due to their athletic talent and intense speed of play. The team continues to impress their fans with very close games and always keep the people in the stands on the edge of their seat. The scores are not reflecting the talent and hard work that the team has put forth during the recent breaks from school and so far this year.
So far, the boys have played very athletic schools such as Union, Eden Christian, New Brighton, North Catholic, Seton LaSalle, Hopewell, Carlynton and Fort Cherry.  They have lost all but two games so far this season and are motivated to continue their win streak after winning against Fort Cherry and Carlynton.
"The Carlynton game also stood out because we won that one close. We lost some close games early in the season, so to pull this one out was a step in the right direction," head coach Jeffrey Griffith said.
The boys have also had some very close games aside from Fort Cherry and Carlynton. On Dec. 11 Freedom fell to New Brighton with an ending score of 60-56. There have also been some very tough losses for the boys so far this season. With a record of 1-6 overall and 1-2 in the section so far this season, Griffith pushes the team to go hard in practice and is always motivating the team to continue to work hard through the rough start to the season.
This year, the leading scorer so far is junior Tyler Mohrbacher averaging 12.8 points a game. "Tyler  Mohrbacher has done a great job handling the ball in our last two wins," Griffith said.
Another player who tends to stand out is junior Maxwell Ujhazy.
"Ujhazy has stood out the last few games. He is giving us great effort on defense, taking care of the ball, and hit a big three in each of our last two wins against Fort Cherry and Carlynton," Griffith says.
Also, sophomore Cole Beck had a double-double in the win against Carlynton; 23 points and 12 rebounds.
Each player on this team has contributed in some way and has given a one-point boost or another. Continuing on the offensive end, the team looks to improve on their ball movement.
"We really stress seeing the floor and getting the ball to the open man," Griffith says.
The players have all put in all their hard work and effort to continue to do well this season and are constantly having practice to do just that.
"These guys want to win and now that they got a taste of winning a few games they are more motivated than ever," Griffith said.