GIRLS' SOCCER – Kicking into the new season: Girls' Soccer starts season with new coach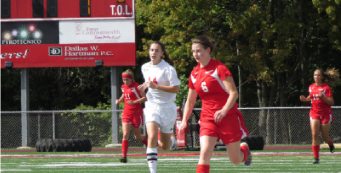 Hang on for a minute...we're trying to find some more stories you might like.
The Girls' Soccer team has started their season with a one to two record. They have a stat of 27 scored and 18 goals scored against, meaning they have scored a combined 27 goals against opposition, while the opposing teams have scored a combined 18 goals against them. The girls' highest scoring game was against OLSH which was six to one on Sept. 8, with goals scored by Seniors Maddi Daubenspeck and Tina Davis, Sophomore Alexa Schwab and Freshmen Jordan Hartle and Taylor Petroff.
The team also had the opportunity to travel to Pittsburgh on Sept. 15, where they played at Highmark Stadium against Quigley Catholic. The girls won the game three goals to none, and then defeated Riverside two to one at home three days later on the 18.
"I think the team is gonna do pretty good this year," Senior Alexis Shingleton said. "I think the Coach has improved us the most this year. He has a lot to teach us and has a lot of good drills to teach us footwork, and really knows how to get us organized. I think the team is a lot closer this year because of Colin bringing us all together and giving us a great learning environment."
The new coaches new techniques pulled out another win for the girls against South Side five to zero. This was their second highest scoring game lower only then OLSH.
Even the freshman can feel the new liveliness in the air that the new coach is bringing. Freshman Jordan Hartle was happy to come up to the varsity level.
"I was really excited to come up to the high school level of soccer. I'm happy to put my skills of playing cup soccer into the team to help win games with them," Hartle said. "Having this new coach is really helping out the team too."
Now what's the coaches secret to bringing together the girls' soccer team? "They are developing better ball work and foot skills, and still having fun and enjoying the game," Coach Colin Williams said.
"All the seniors seem to be close and leading the team along on the field. Three girls that are leading the team throughout all the games are Maddi Daubenspeck, Alexis Shingleton, and Alexa Schwab," Williams said.
So from the players and coaches perspective they all think this season is going to be "a good one" and will "benefit the girls for years to come in their soccer careers." Having won the games against OLSH, South Side, Quigley and Mohawk, the team will be facing OLSH, Come support the girls' soccer team's next couple games as they make a break for playoffs this year.