High school students assist with elementary science fair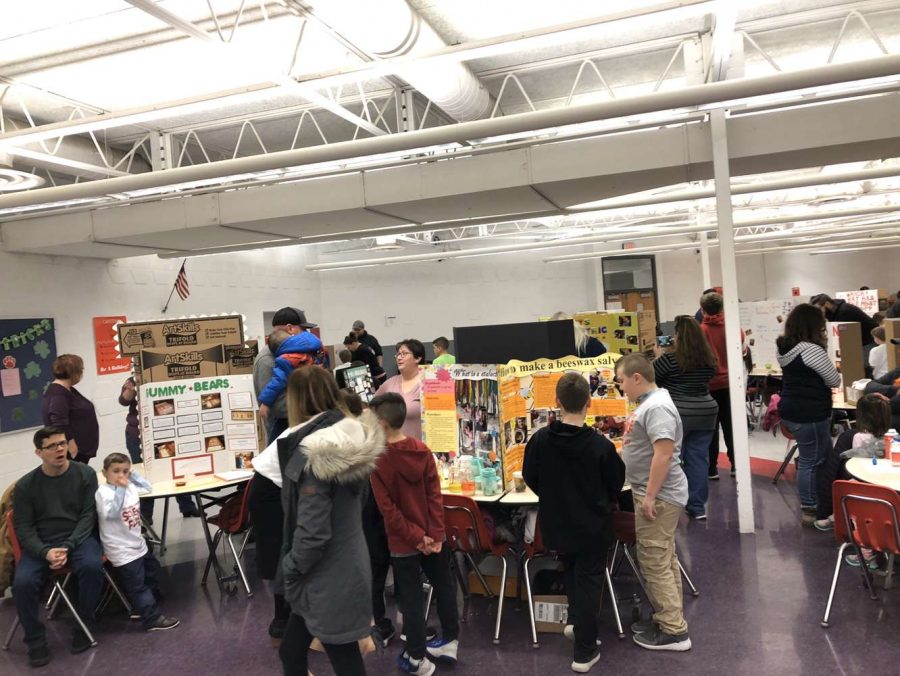 Having a science fair is not new to Freedom. When the elementary schools merged in 2015, the PTA team continued the Big Knob tradition of holding a science fair. Community members Elizabeth Deal and Wendy Kline organized the event this year. Deal has been the co-chair of the science fair for four years.
This year, on Feb. 27, there were 40 total participants. The event took place in the middle school cafeteria and was available to students in kindergarten to fourth grade. Each child created a project and presented their ideas and findings to the attendees. These projects ranged anywhere from seeing what different substances do to eggs to modeling what blood looks like.
In 2016, Deal worked with physics teacher Brian Wargo to incorporate the high school students. Continuing on this tradition, four high school students, seniors Ella Walden, Cole Skuse, as well as juniors Samuel Covalt and Josiah Dubovi, acted as mentors. They were in charge of helping set up and listening to the children present. They also gave the competitors feedback so that they can improve for future projects.
The categories were separated into kids in kindergarten, first and second grade, with third and fourth grade students competing in a separate category. This was done to make the judging more fair, since the older participants had an advantage.
The people voted for winners in three categories: fan-favorite, grossest and most creative. The participants could win first through third for any of the three categories. First place received a certificate, ribbon and an all-day pass to the Carnegie Science Center. Second and third place finalists were also awarded ribbons for their achievement. In addition, all of those who participated in the event received a black light pen to use.
The event is encouraged to get young students interested in science at an early age and also to have fun. Participation is not required for any of the students. The children who do participate are getting an opportunity to improve their skills in science with hands-on experience.
"All of the STEAM (science, technology, engineering, arts, and mathematics) opportunities that we can offer Freedom students will raise achievement and strengthen our community. I hope more families will want to join our efforts at the PTA level to promote STEAM activities in every building at Freedom," Deal said.
Since children are the future, getting them interested in STEM in elementary school with a positive, constructive experience will keep them involved as they grow older. Next year, the science fair can hopefully have even more participants in order to benefit the children and the STEM programs in our district.