Kickin' it old school
Boys' alumni soccer team comes back after 30 years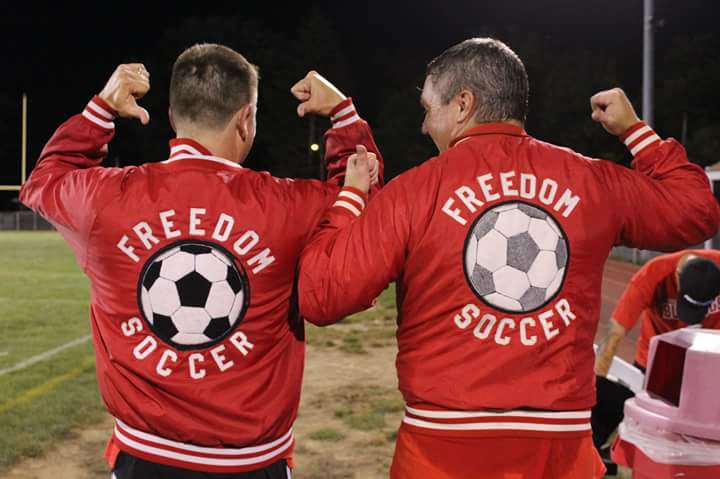 The boy's High School soccer team had their first ever Alumni Soccer Game on Aug. 18. The game was held at the Freedom High School football stadium. Alumni from all 30 years of the program came. Two of the participants were even from the first ever Boys Soccer Team founded. The team used this event as a fundraiser to raise money for their boosters. There were several different activities that took place during this event. Laughs were shared among many as they watched and cheered.
One of the oldest players who showed up to the event was Mr. Jon Stitch, who was from the first official soccer team at Freedom High School. Both Jordan Herzog and Joey Pail, who graduated in 2016, came back to play in the match. The first ever boys coach, Gary Gilarno, was also there and even coached one of the alumni teams. With what time they were given to put together the event, which was a month, the turnout was extraordinary.
"We were hoping for enough to field a 9v9 game. We ended up playing a full 11v11 game with subs."Assistant Coach Jason Melvin said.
This whole event was brought together thanks to the boosters and the soccer team. "Another thing that made it so good was… all of the current soccer team was involved with the game as referees, ball boys, coaching, concession stand workers and don't forget the press box announcers." Mrs. Paxton, the President of the Soccer Boosters stated
Both Melvin and Paxton talked about the possibility of having another alumni soccer game since the game was such a successful fundraiser. With concessions, participation fees and donations, the boosters raised nearly $900. Melvin and Paxton are not the only people who feel that this game should be played annually.
"All the participants expressed interest in making this an annual event." Melvin said.
This is could be a start to Freedom's Alumni Program. It could even be possible for other sports to try and follow in the footsteps of the soccer team and have their own games.
Mr. Melvin brought up the fact that "If everyone helps out the way our team and parents did, I think all teams could benefit from a fundraiser of this nature."
Hopefully in the future we can see alumni games for all the Freedom sports not only to help raise money for the sports, but to also honor the older players and honor how the game started. Bringing together people and showing school pride is what our school has always stood for.