Meet Rosie
District adopts therapy dog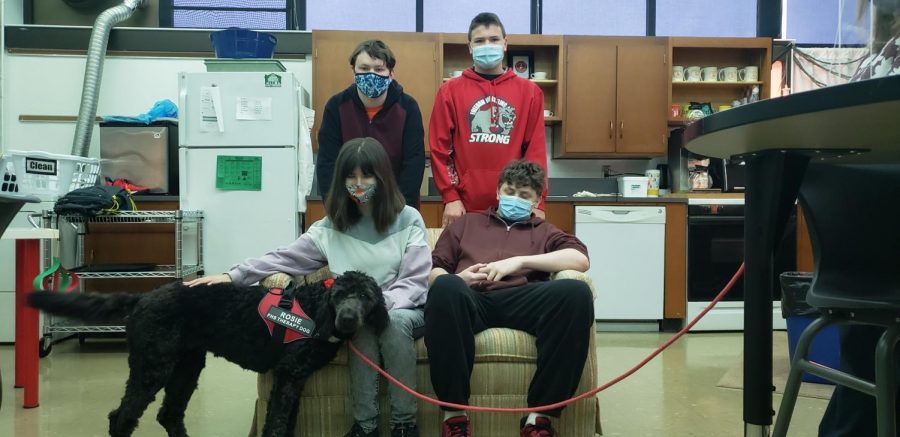 On Nov. 19 the school board approved a therapy dog for the high school. This dog will act as an emotional support animal for students and teachers alike. Therapy animals have been seen to have immense benefits when it comes to school. The dog would be there if anyone was having a crisis and needed comfort, or if a student were to be nervous. 
Rosie is a labradoodle who came to the district from New Hope Assistance Dogs which is located in Warren, Pennsylvania. It is about a two and a half hour drive from the district. Rosie had to wait a couple of weeks from the board's approval, as she still had to complete the rest of her training. Rosie was officially welcomed into the halls of the school on Dec. 7. 
Rosie will live within Cafe 116, which is home to Special Education teacher April English. Students enrolled within her class were able to visit Rosie the day she was brought in. The students were told by English that they were getting a new student but they had no idea that they would be adding a new therapy dog into their loving arms. 
"We're going through some difficult times, and it's important to keep a positive outlook and a healthy attitude. I believe one of the biggest benefits Rosie will bring is a boost in morale. A wagging tail around the building is sure to bring some smiles to faces. The reasoning behind bringing Rosie into our program was to support social and emotional learning," English said. 
When Rosie is not within the building she will go home with Principal William Deal.
Deal already has a dog and he has dreamed of having a service animal within the halls of the high school. 
"Back when Mrs. Slavik was here, she and I had talked about trying to bring a therapy dog to the high school. Now, originally, our plan was she and I both had dogs and love dogs and we thought we would get one of our dogs trained to do that. But in investigating that, it became evident that it would be really expensive and really time consuming to take a dog through that training to have them as a fully certified facility therapy dog," Deal said. 
However, this year finally became his dream year. He was able to team up with English to make this happen. 
"Mrs. English and I were having a conversation about a facility dog and she was talking about the kind of difference that that would make in her program. So she did the research that led us to new hope assistance dogs, which is where Rosie came from. So rather than taking a dog that we had and having them trained, we were able to purchase Rosie having already been trained," Deal added. 
English hopes that Rosie will not only benefit just her classroom but other students and teachers as well. 
"Rosie will spend her days with the life skills program supporting learning of responsibility, as well as social and emotional learning. We hope that other teachers will utilize our services as well, perhaps in communications or creative writing, maybe having some students practice their speeches on Rosie. During virtual learning, some students do come into the building for different reasons, Rosie spent her time getting to know her new surroundings as well as spend some time with those students while she's not in the building," English said.
With students in virtual learning, as of right now, Rosie is only around the Cafe 116 classroom. However, when we return to in-person learning, Rosie will be available to all students.
"If we have students who are in crisis or students who are needing the support of a of an emotional support dog or a therapy dog, she'll be right next door that we're able to bring her over to the guidance office so that one of the things that are parts of Rosie's training is we gradually want to introduce her to more of the building. So for right now, she's just in Mrs. Englishes class. But as she gets acclimated to the building, will gradually take her out more and out into other parts of the building and into the classroom," Deal explained. 
Whether a student is having a rough day, they need to talk or they just want to practice a speech, Rosie will be around to help them.