New season, fresh(men) start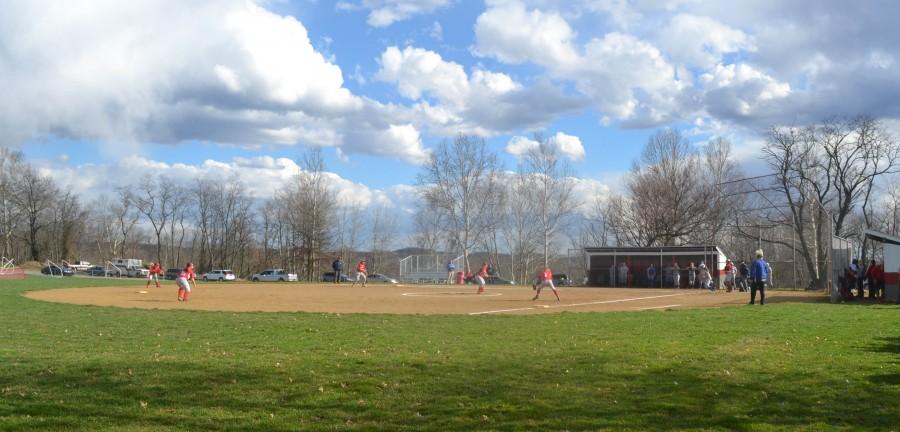 Freedom softball has been plagued with disappointment after finishing several seasons at the bottom of their section. They have found little success when it comes to wins and losses. This year however, there is a feeling of optimism as the young team looks to change the program's trends.
Although the team is starting the 2016 season with a younger variety, Coach Bill Boggs doesn't see having multiple freshman as starters as any type of disadvantage.
"Although this is a young team, it isn't an inexperienced young team. These girls have been playing with each other for a while and these freshmen have been practicing with the other varsity for two years now through the junior high team," Boggs said.
The team's success relies heavily on how prepared these freshmen players will be, especially if they'll be starting like Bogg's predicts. In the team's first scrimmage against Avella, these freshmen were tested by an outside force for the first time.
They got off to a rocky start defensively as they had four errors in the first two innings which ultimately allowed the other team to score four runs. Although, as the game went on, these errors dissipated, even though these early errors could have been prevented. These errors came from an infield that is a question mark going into the year and its success will be very important to the team's overall success.
This will be especially true when sophomore pitcher Haley Velemirovich is on the mound due to her reliance on ground balls to get outs. If the infield behind her can get outs on these ground balls efficiently, the team's offense should be more than capable of producing the run support to win games this year.
On the flip side, this team has already shown its ability to produce runs in bunches and get production out of every part of their lineup. This is highlighted by Sophomore Lexi Halvin and Freshman Madison Slowinsky, who showcased their power against Avella. Slowinski's two RBI doubles and Halvin's home run were just highlights of the team's 14 run outburst in their first scrimmage. Despite the power showcased at times, this team has shown a desire and ability to manufacture runs on the base paths through steals and aggressive base running. Aggressiveness on the base paths allowed the team to capitalize on many singles and errors to score runs in bunches.
Although some people may count this team out this year do to their youthfulness and say that they will have their time in years to come, this team seems poised to make a run this year. For Freedom softball, the future is now.