No stress, no mess
Work quality, grades are better when under a time crunch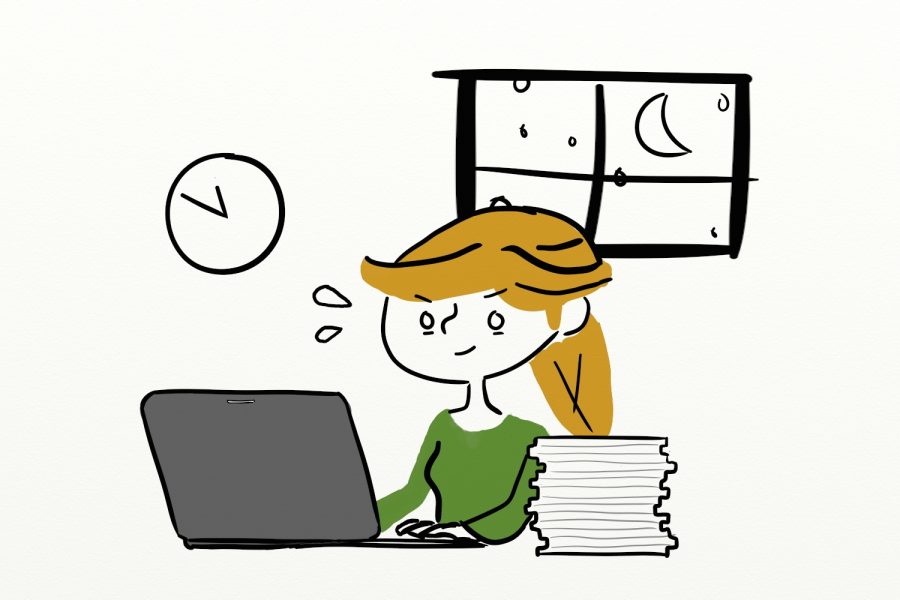 It is late on a school night. Books and assignments are piling up. The workload is getting heavier. Students want to sleep but they know that they must complete their work. They continue to procrastinate until the last possible minute. Then, when they finally get their graded assignments back and they see that they did quite well on the assignment. In fact, the students do better on it than if  they would have started the work earlier. 
Students get an abundance of homework assignments over a school week with that work often times getting carried into the weekend. A lot of these students do not do this work unless it is absolutely necessary to do so. They will wait until the last possible second. This often results in a better grade performance. 
Students stress about the endless pile of assignments that stack upon their desk each and every day. Sometimes, students will come home and work on their assignments same day, but more often than not, a student will wait to do these assignments until the last minute. In this situation, a person leaves no time to second guess themselves. The first thought about the work is what goes. There is not even a split second to think. Without an ounce of hesitation, the student has to give their best possible performance on their toes. 
Quick thinking improves intelligence and the overall pace at which a student can learn and further retain information. Keeping a student on their toes makes sure that they pay attention and are prepared for the unexpected. This happens with every late night assignment that is completed. 
Most students second-guess themselves. They even overthink the assignment too much. This can cause the project to go down hill and turn into a disaster. A huge project can be planned out, but that plan can change over the course of duration of the project. When waiting for the last moment, there is very little time to even plan ahead. The project becomes the first thought the student can think of. Most of the time, a students first thought is better than the second or third when they start to over-complicate the final project. Their first instinct can actually be the best possible option when completing the assignments. 
Waiting until the last second can cause stress and be quite overwhelming for students. However, the light at the end of the tunnel is that the assignment comes out at a higher quality. Some may say that being able to plan out and break down the assignment piece by piece can allow for a better grade, but often times it can lead to the student spiraling, stressing out and majorly over complicating the assignment in its entirety.