Pinning and Winning
The wrestling team continues to win till the end their team season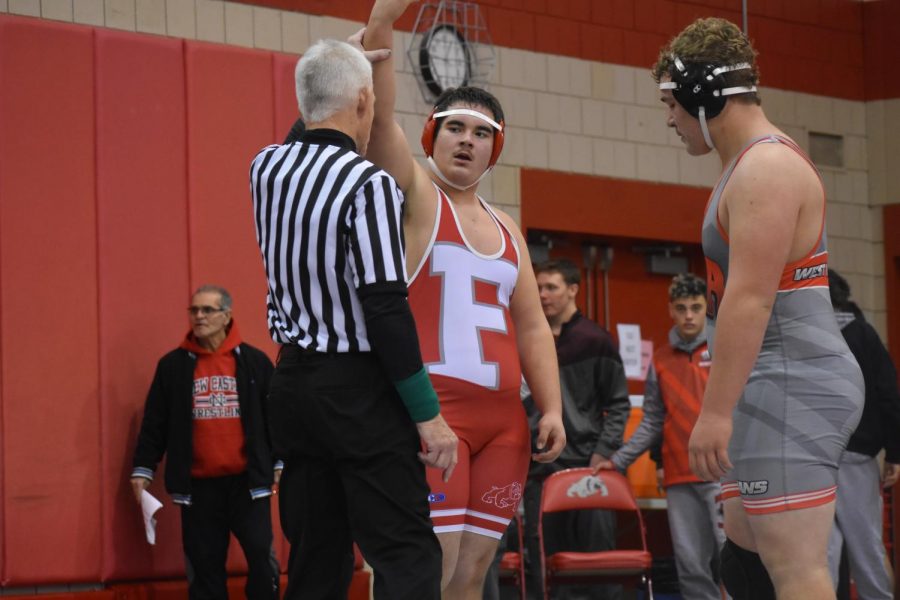 As the Bulldog wrestling team prepared for their big match on Jan. 31, all the team could think about was clenching a spot in the WPIAL final on Feb. 3. The matches on Jan.31 got underway at 6 p.m. where the Bulldogs took down the Quaker Valley Quakers with a score of 66 to 15. This moved them into the final match of the night against the winner of Beth Center and Beaver. Beth Center was victorious over Beaver, but the Bulldogs continued their winning streak by defeating Beth Center 35 to 33.
Next, the team had competed in the WPIAL finals on the following Saturday, Feb. 3. During the long bus ride to Chartiers Valley High School, the wrestlers got their minds set on winning their matches that day against Derry and McGuffey. Unfortunately, the wrestling team fell short in both matches ending their WPIAL playoff run. The boys lost to Derry 36 to 27 and then 44 to 31 against McGuffey. After the long day of wrestling, the boys still managed to placed fourth overall.
"I felt that we could have wrestled better as a team that weekend. It all came down to mental mistakes. We needed to wrestle better and keep our heads cool. That was just something we lacked and it showed in the matches. It was hard being in that situation, but we'll be back next year," junior Nicholas Wolfe said.  
As the team's season came to an unfortunate ending that nobody expected, the boys were not finished. For most of the wrestlers, they stayed in the wrestling room to train because they still had a lot of individual tournaments They had to prepare for. Luckily, the wrestlers had a long break to forget their last match and focus on their own personal goals for their individual matches to come.
On Feb. 16, some of the wrestlers hopped on the bus to travel to Canon Mac for the WPIAL Invitational tournament. The two day tournament was a lot of work; however freshman Trent Schulthesis, juniors Zach "ZJ" Ward, Bryson Miller, seniors Chase Komara and Michael Muron were able to secure a spot in regionals. Junior Ward and senior Komara had finished third in their weight classes as senior Muron finished fifth. Juniors Bryson Miller and Jake Pail as well as freshman Schultheiss were awarded first in their weight classes and stand on the top of the podium for placing first in the WPIAL finals over the past weekend of the sixteenth through the seventeenth. All of these wrestlers will advance to regionals on Feb. 23 and 24.