Putting in the shifts
Freedom students play for multiple hockey teams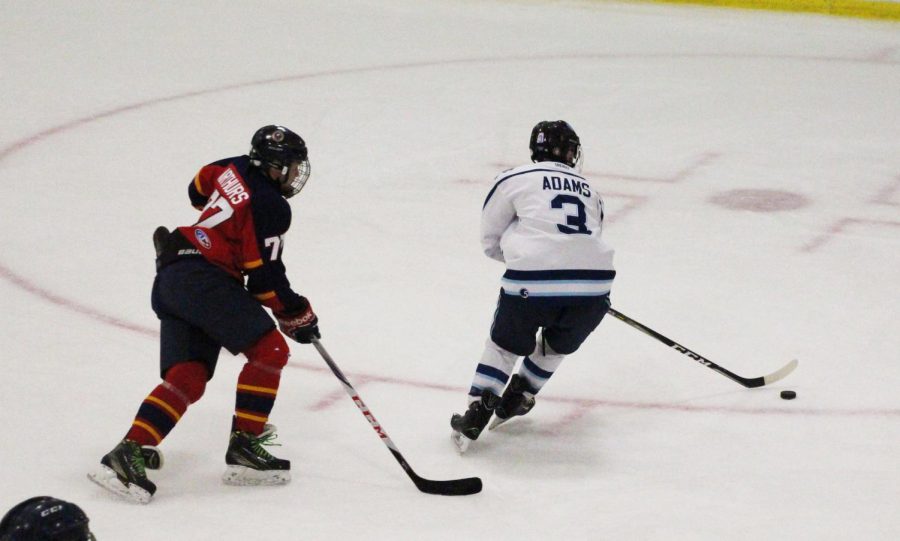 With winter being the only season for hockey, club and school sponsored teams play their seasonal games during the same time of the year. This is true for the student hockey athletes at Freedom Area High School too. Juniors Samuel Romutis and Riley Adams, along with freshmen Marc Evans and Matthew Keller, play for Badgers Hockey Club as well as the school sponsored Central Valley Warriors. Senior Jimmy Kelly-Tindall, on the other hand, plays for the Triple A Pittsburgh Vengeance.
           "The season has been going good for us [Badgers]. We've won a lot of our recent games and are in a playoff spot. That could change easily though," Evans said.
The club is divided into age groups. Evans and Romutis play for the U-16 team while Adams plays U-18 and Keller for Bantam.
"To keep winning and make playoffs, passing and teamwork are two key areas we can work on," Evans added on.
           Meanwhile, Kelly-Tindall's Pittsburgh Vengeance play in a different division than Badgers altogether.
           "Games are way faster and we play bigger, stronger kids that have good hockey sense. It's just more competitive," Kelly-Tindall said.
           Vengeance, at the time of writing, are ranked first in their league.
           "We [Vengeance] have been playing to our full potential," Kelly-Tindall said.
           On the contrary to club teams, Kelly-Tindall's hat-trick led the Central Valley Warriors to a 5-3 away win over Trinity on Tuesday, Jan. 9. The game was the first after a long break for the team as their previous game was on Dec. 14.
The win was an important one for the team, as they were beaten at home by Trinity 4-3 in overtime on Nov. 2, 2017.
Later that week, the Warrior's scrimmage away to Linsly was cancelled on Thursday, Jan. 11.
On Thursday, Jan. 18, the blue and white hosted Morgantown. In an exciting finish to the game, Central Valley hit the post twice as they suffered a 6-5 loss.
At the time of writing, the Warriors are seventh in their league with six games remaining. Just good enough for a playoff spot, the team's main focus will be staying there.