The boys are back in town
The boys basketball team hits the court as they prepare for next season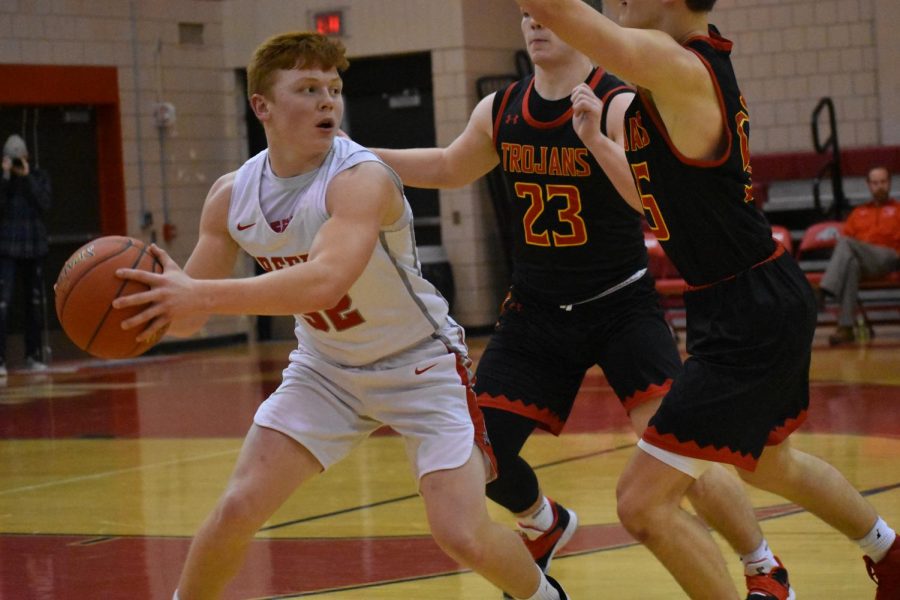 The boys basketball team is getting into full swing. After the positive end to the 2018-2019 season, the boys went home just short of a spot in the playoffs. Now, after months of training, the team is getting back onto the court. 
The team is coming off of a solid end of last season, as they were one win short of a spot in the playoffs. This year, the team is looking to continue their upward winning streak.
Of the five starting team members from last year, only alum Steven Leasure graduated, leaving an open shot at a spot on the squad. The competition will be steep to see who can claim the open position, and to see if any new challengers can upset the incumbents.
This year, mandatory practice got started on Nov. 18. Players will be in the gym siz days a week to give themselves a leg up on the competition.
  Head coach Jeff Griffith and assistant coach Tom Hickey have once again committed to the job of bringing out the best in the athletes. The coaches' goal this season is to keep the team on the up and up after last year's solid season. With the majority of the team in the 9th and 10th grades, onlookers are ready to see the underclassmen step onto the court.
Unfortunately, some team members have sustained injuries prior to the season that could have a major impact on the team. Assistant coach Tom Hickey stressed staying positive and focused, even at the turn of bad luck like that.
"Sometimes, that's the hand you're dealt. We just have to deal with the adversity," Hickey said.
Hickey also talked about teamwork in general. "Trusting each other and playing alongside one another is the key to success," Hickey said.
Altogether, the team is looking to get the best take on the season and stay positive. 
Being competitive will be key to keeping up the pressure on the opposing team during the long and winding and road to a victorious season.
In the end, a good start to a sport season is all about making goals for the present and future. During the preseason of course, improvement is the name of the game, but taking a look ahead is also important to set spirits high and get athletes motivated.
This year, the playoffs are what everyone is looking towards, especially after last year's close call. This time around, the team is gearing up to score the hoops that they know they can reach. Come cheer them on at their first game at home versus Western Beaver on Nov. 26.