The new kings and queens
New Chess Club is growing in size and popularity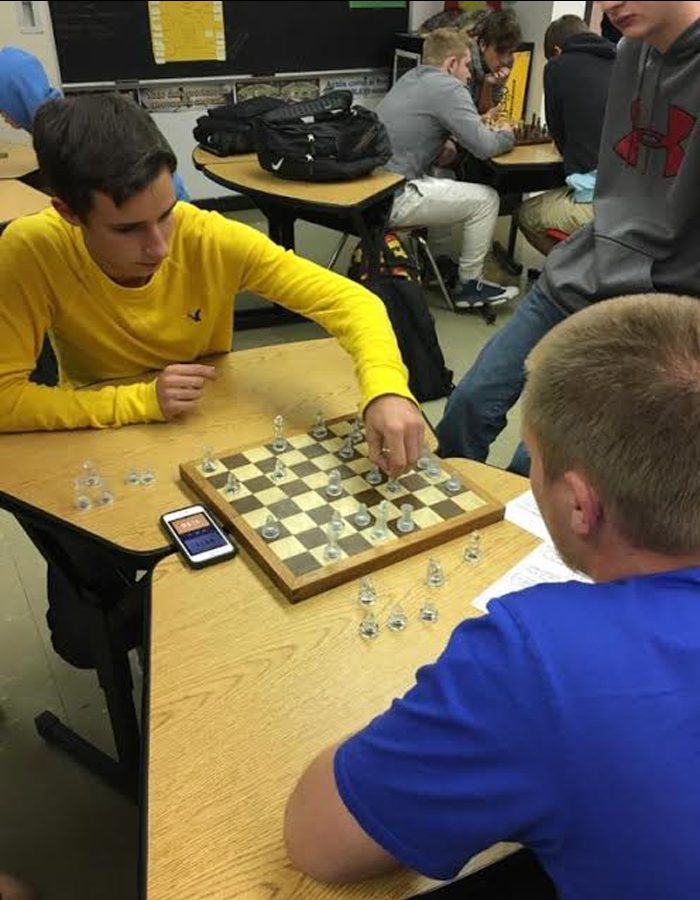 Earlier in the school year, a group of six seniors came up with the idea of starting a new Chess Club at FHS, seeing as there hadn't been one in the school for quite some time. They had all enjoyed playing the game frequently with each other near the end of the previous school year, so they figured they could make something great out of it for others to partake in.
The group, which consisted of seniors Joey Pail, Jarrett Boyd, Michael Fricke, Devin Daley, Ralph Cordes and Chance Jerry, approached the high school principal, William Deal, about making it happen. Once they had been granted permission from him to start the club, they spoke to Spanish teacher Ruthanne Gudzan about it and got her to be the club's sponsor.
In the beginning, there were just the six boys in the club. Soon enough, they recruited several students who were ready to join and it has only grown from that point. More and more students are continuing to join, to the point where there are roughly 25 to 30 students involved. It has the potential to grow even more as members continue to bring their friends, who have yet to become associated with the club, along to meetings.
"I never thought it would get so big. It's pretty crazy that [we've] got like 30 people. I guess it's just so awesome [because] we're all there having fun once a week, and [we've] got to see it grow fast," Cordes said.
The four officers of the club include three of the original six members: Pail as president, Jerry as vice president and Daley as treasurer. Junior Santino Guandolo, who joined the club shortly after it was established, is the secretary.
Several members believe that a part of the appeal of Chess Club is that chess is a game virtually everyone can play since it's not too complex or hard to understand, and all different kinds of people can enjoy it. Along with this incentive, the group is also quite popular because the meetings are an opportunity when many students and friends can meet up and have a good time while still actively participating in a game of contemplation and strategies.
"I think people enjoy going to it now because they simply get to go and play a game with their friends. That's something that's universally fun. It just picked up a following as more people started going, and I think everyone enjoys it," club member, junior John Blinn said.
The club members started forming brackets for a tournament of 32 players to make their meetings a little more exciting and also to determine who the real "king" of the Chess Club is.
Gudzan said they've been playing each other one-on-one since they formed, but they plan to start doing teams and pair matches, as well playing chess against some of the teachers at FHS. One of the club's other plans in the making is to play a game of human chess sometime closer to the end of this school year.
With a growing number of members and several ideas for their group's future, the Chess Club can be expected to continue to thrive for quite some time.