A day of refinement
Freedom hosts 3rd Annual Science Conference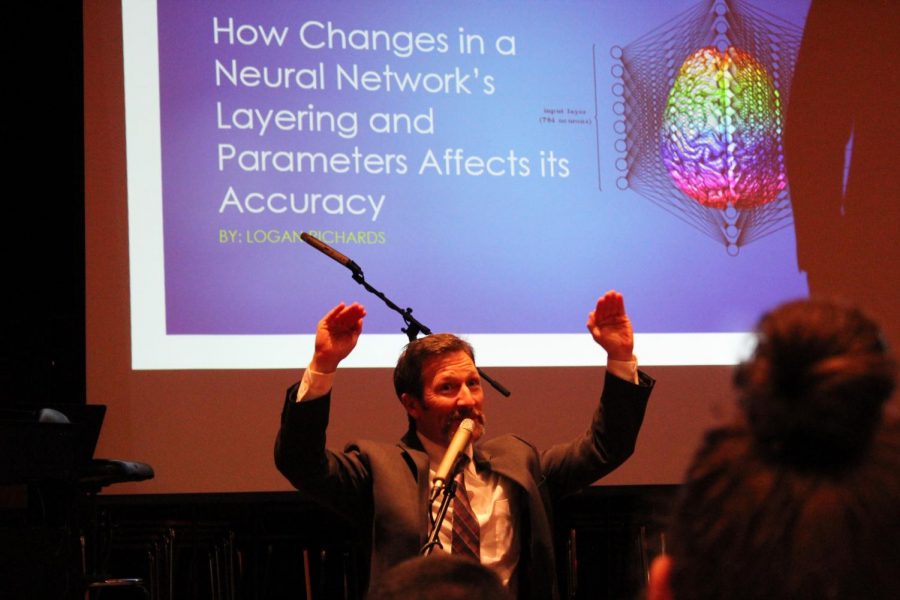 On Friday, May 17, the third annual Science Conference took place at Freedom Area High School. The day-long event included over 20 returning alumni and 140 student presenters participating in the school-wide event. The event started off with physics teacher Dr. Brian Wargo giving his opening remarks along with a presentation on the importance of the science conference as well as the flaws in the current education system's state. During his presentation, Wargo mentioned the different learning trends that they have been following throughout the years, and added the importance of letting students learn on their own.
After Wargo's speech, the conference started to commence, the first presentation of the day was junior Brandon Majors. Majors was the first student to complete and present an industrial arts long term. Major's long term dove into the effect of speed on the smoothness of metal.
"I chose the topic of testing the smoothness of a cut because I questioned myself on why do I just listen to what teachers tell me and go by like it like it's the right decision?" Majors said.
Not only did students from the high school present during the conference, but also Meadow Ging-Wargo who's 11 years old and only in fifth grade, presented her long term on the infinity cube and all the patterns she discovered, along with her brother Theo Ging-Wargo who presented his longterm about dinosaurs.
The whole student body was assigned to different rooms throughout the day where they got to view different long terms that their peers had created. Each class had a mixed audience varying from sixth-graders to seniors, along with presenters varying from sixth-grade to seniors. Unlike the past year where only Physics 1, Physics 2, and Physics 3 were involved, this year several other classed took part in the conference. Some of the classes involved in the conference this year included Anatomy and Physiology, World History Honors, Spanish 5, Conflicts and Conspiracies, along with some CCBC students.
Many teachers that didn't have the chance to participate with their classes this year hope to next year, Fortune 500 run by Krystin Milanovich is one of those classes. The community was also involved in the event as well as Secretary of Education Pedro Rivera. Many parents stayed and walked in different classrooms and watched different presentation throughout the day. Board member Lori Pail was also observing long term presentations throughout the day.
"Any long-term research project will involve countless unexpected hiccups and difficulties – science studies the world, and nothing in the world is ever clear-cut. Its practice requires patience and resilience, and a tenacity to keep thinking through problems regardless of how intractable they might appear," Wes Roberts stated.