Bouncing into the new season
A look at what's to come in the upcoming season of girls basketball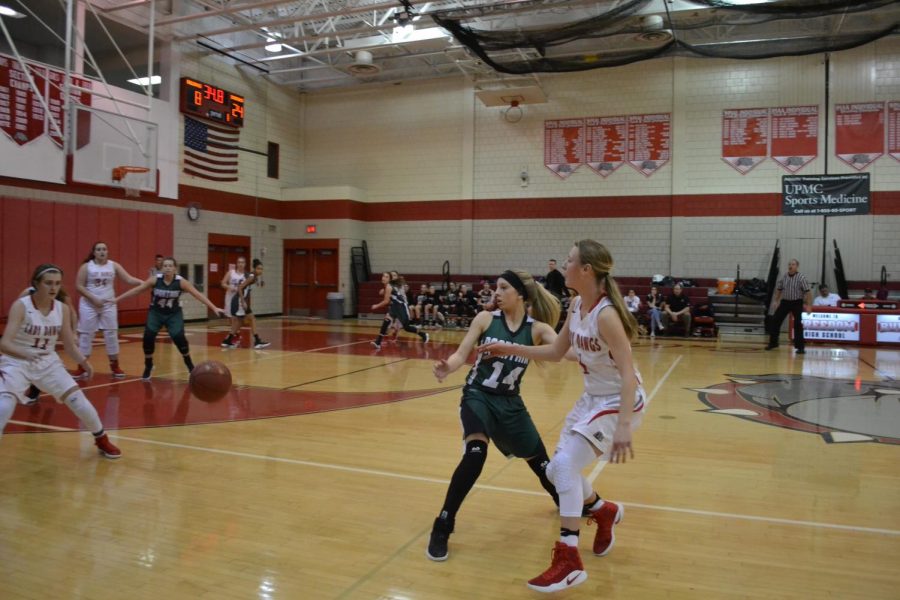 The time ticks down until there's only a few seconds left. The layup sails through the net, and time runs out. The win leaves everyone fired up. The team lifts their heads and prepares for the next game with determination.
The challenges last season should serve as building blocks for even greater success this season. The girls gained prowess and, even though they may not have reached all their goals, it was said to be a fun learning experience.
"We kind of just thought like 'Oh they're better than us they practiced more etc.' So we ended up giving up instead of challenging ourselves more," senior team captain Tori Mitchell admitted.
She went on to explain that there was some doubt circling the team. Also that they gave up easier than she feels they should've.
This season they'll be without Mackenzie Moldovan, who graduated in 2017.
"She always had a really positive attitude and tried to help others succeed," Mitchell praised. This could pose trouble, but Mitchell isn't worried.
For this upcoming season, the team is setting some new goals with a fresh outlook.
"We're really just trying to focus on having a positive attitude, practicing more and really pushing ourselves," Mitchell revealed.
Some opponents that'll be tough to beat this season are Beaver Falls, Mohawk and Lincoln Park. With a new game plan Mitchell feels the girls can conquer any team.
Some new faces on the team are Tabitha Scimio and Karissa Mercier.
"Some players don't realize they need to earn their place, and it takes a while for them to learn plays since everything's new to them," Mitchell said after being asked the hardest part about having new players.It is said that not many people have been signing up to participate over the last few years.
Sophomore Ella Walden had advice for girls who are nervous that they have little to no experience but want to be a member of the team.
"If anyone would be interested in getting involved with the sport don't be shy. Just join and try it, if you're young you have room to grow and the team could always use help. The girls on the team are open to new members and it's never been a threatening atmosphere," Walden said. This will be her second year on the high school team.
Mitchell also had some advice for players just starting out.
"Just try your best you know, and don't be afraid to ask for help," so they shouldn't be worried.
The team will be coming back this season with their first game on November 25, in the Freedom High School gym.