Boys soccer kicks off the season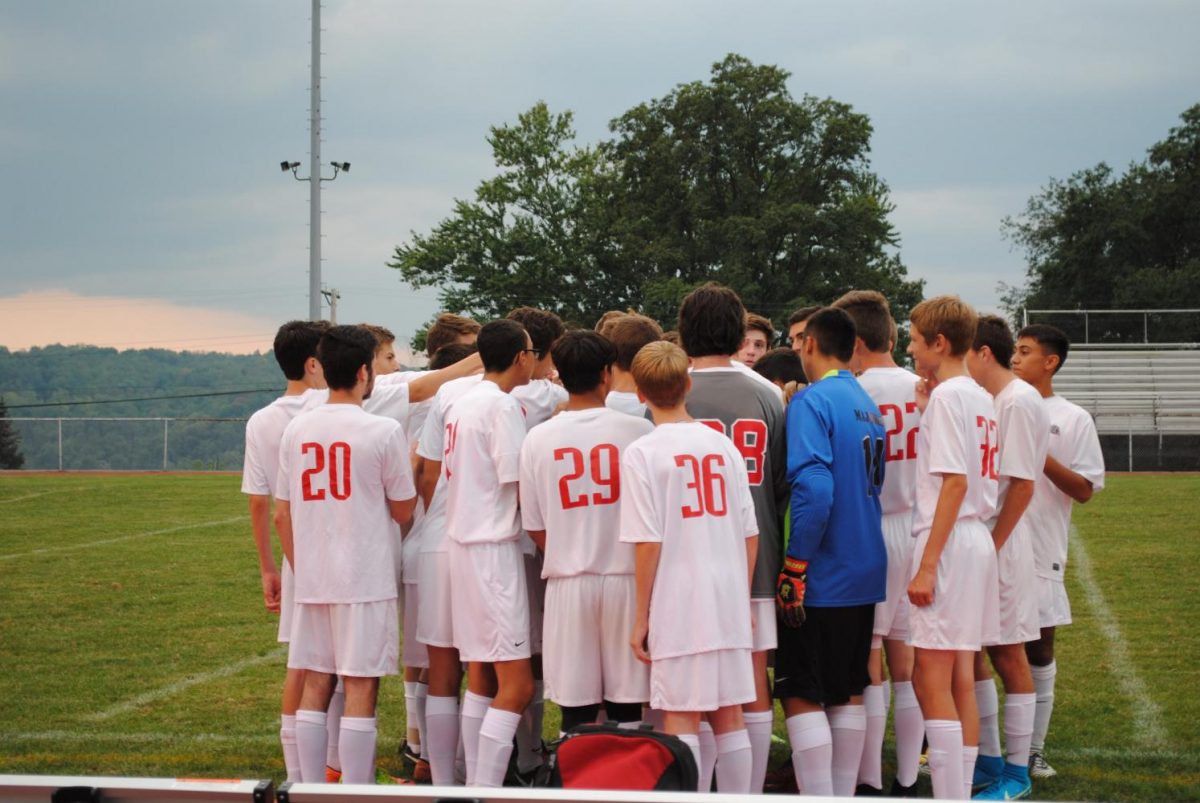 The Freedom Boys' Soccer Team is back at it again, practicing and working together to have a great 2017-2018 season. They started the season off with a 6-1 win against Knoch on Sept. 2. The team is a mixture of underclassmen and upperclassmen players. Many of their key players range from freshman to seniors. A new season means new goals and new opportunities.
Their first home game occurred on Sept. 5 with a win against Neshannock. With eight goals by Freedom, junior goalkeeper, Nick DiNardo, only let Neshannock get two goals in. Many impacting players include seniors Nych Baker, Josh Beck, Carson Gilarno and Jon Kaercher.  
Senior Kaercher on what he is most excited for his last year playing for Freedom High School. "I am getting to spend my last year doing what I love," Kaercher said.  
Kaercher has been playing soccer for 13 years. "I learned to have fun while appreciating every moment. You make great memories as well as friends, I could not have asked for a better team to end with," Kaercher said. Their biggest challenge this year was Sewickley Academy, "we beat them 2-1 ending their 60 consecutive section win streak."
Senior Ben Wright shares his hopes and goals for the new season. Wright has been playing soccer for ten years, and he is the center defender. "My goals for this season are going undefeated as well as winning the WPIAL title and winning States. Everyone on the team is like family to me and I help them while they help me," Wright said.
Sophomore Tyler Mohrbacher tells how him and the team has been preparing for the new season. "We put a lot of work in the summer, mostly conditioning and that has helped us be in the best shape that we could be in. Also, we have worked hard in practices during the season as if it were real games because we are preparing to win the WPIALs and States," Mohrbacher said. Mohrbacher plays as an attacking midfielder.
On Sept. 3, the team came home with the first shutout of the season with a score of 8-0 against Highlands. On Sept. 7, they went up against Sewickley Academy. After being defeated by Sewickley Academy for many years, they got their first win against them with a score of 2-1. The goals were scored by junior Ethan Paxton and senior Gilarno.
They hope to go far in the playoffs, especially since they have been able to in past years. No matter who they are playing against, they all work well together as they are all working towards the same goal. So far, the Freedom Boys' Soccer Team seems to be in high spirits and all of their hard work from practices and past years is paying off. After a great start to the season, they are working even harder to make it to States.