Bulldogs start season undefeated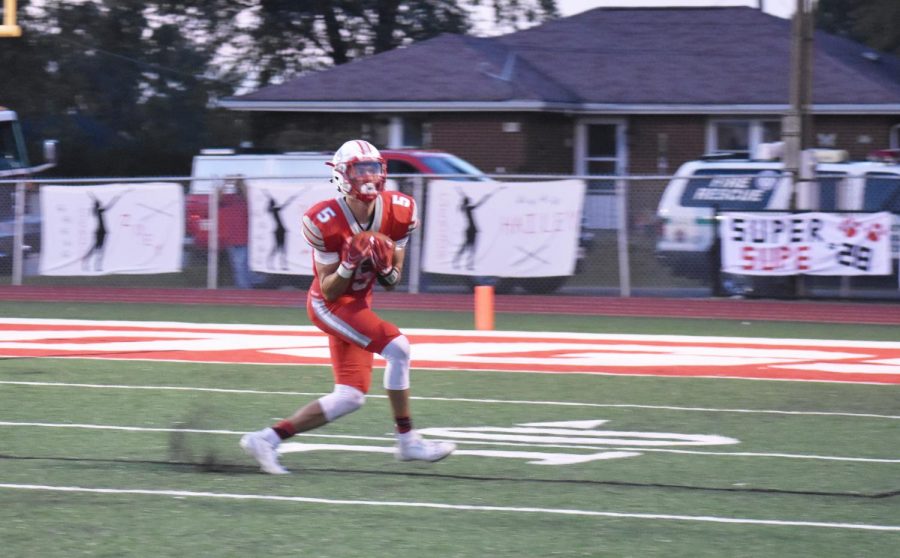 The Freedom Bulldogs are setting the bar high this season. The Bulldogs managed to defeat the Hopewell Vikings, the Shenango Wildcats, the Riverside Panthers and the Mohawk Warriors to start the season 4-0. 
In the Bulldog's first game against the Hopewell Vikings, the first quarter was off to a slow start with no scoring for the Bulldogs or the Vikings. A 5-yard touchdown run by senior Maxwell Ujhazy in the second quarter got the slow-starting offense going. Once the Bulldogs got to the third quarter they were able to put up two more touchdowns to defeat the Vikings. 
The Bulldogs managed to get their first home win against the Shenango Wildcats defeating them by a score of 34-14. 
In the first quarter of the game the Bulldogs were able to quickly run the ball and complete major passes. Junior Cole Beck completed 9 out of 10 passes for 175 yards and three touchdowns. Defensively, the Bulldogs biggest obstacle were the penalties they committed, ultimately pushing them towards their own end zone. However their offense compensated and made their way up the field, made the plays and scored touchdowns. 
When the Bulldogs went to take on the Riverside Panthers the following week, the game began in favor of the Panthers. After no scoring by either team in the first quarter and a Panther touchdown only 13 seconds into the second quarter of the game the Bulldogs needed to turn the game around. The Bulldogs responded immediately when Beck completed a 35-yard pass to junior Brandon Pratte. The Bulldogs scored 17 points before the half but as the game wound down they managed to let the Panthers come back. With just under three minutes remaining in the game, the Bulldogs gave up a 47-yard touchdown that put the Panthers down by one. Instead of kicking the extra point and potentially sending the game to overtime, Riverside went-for-two but the Bulldogs stopped them and managed to run out the clock on offense, winning the game 31-30. 
On homecoming night the Bulldogs shutout the Mohawk Warriors 28-0. Both teams managed to hold off the other from scoring for the entire first half. Once the second half started, the Bulldogs offense made their way to the goalline where Beck ran it into the endzone for the first touchdown of the game. Junior Reiker Welling led the Bulldogs in receiving yards with 2 catches for 86-yards, one of which was a touchdown. The team continued to put points on the scoreboard and hold the Warriors to 28 rushing yards and 45 passing yards. 
"We are following up a historic season for Freedom. Expectations are high. That's just making us work harder, but it doesn't mean we need to change our identity. We're all familiar with winning at this point," Ujhazy said.