Cafeteria cuisine cruises into Freedom
A look into the new grab-and-go food cart at FHS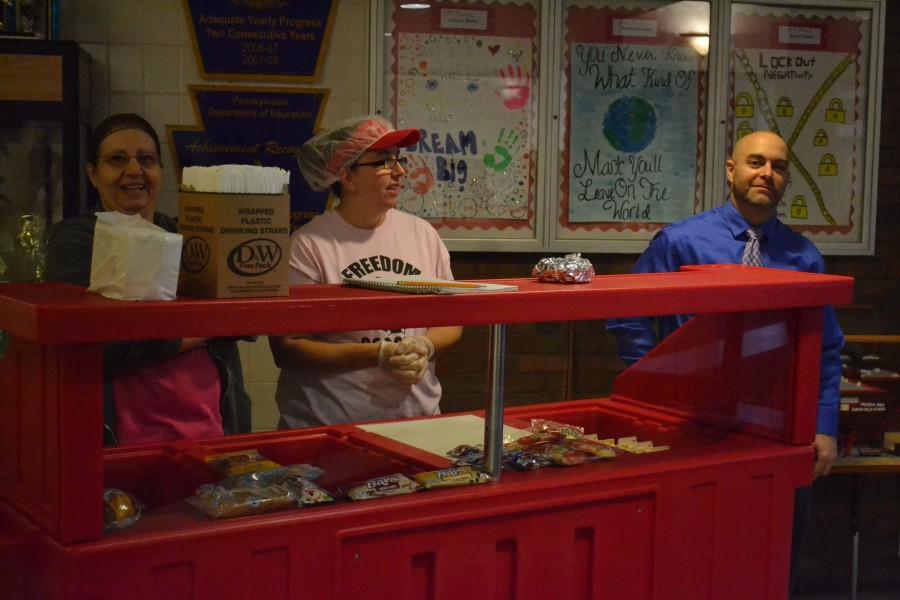 As students have walked into Freedom High School this year they may have noticed the new food cart that sits in the lobby in the mornings, offering kids a mobile morning snack that they can eat while going about their days.
The concept for the food cart is as simple as buying any meal in the cafeteria. Students would use the same number they do to buy lunch to purchase a quick grab-and-go snack without having to go to the cafeteria for the traditional school breakfast option.
This grab-and-go system is being implemented this year because Food Service Administrator Randy Walker, as well as others, are looking to change the fact that many students don't eat breakfast in the morning.
"Currently, less than 30 percent of our students eat breakfast at school. The percentages are lowest at the High School level. Further studies show that 44 percent of students nationwide who qualify for free/reduced breakfast do not eat any breakfast at all," Walker said.
It is clear that this year there is more of a focus on getting kids to grab something to eat in the morning in an attempt to help them become better students. However, many students will ask how this will benefit them and what makes it different from breakfast in the cafeteria. The answer to this is as simple as the Cafeteria Cuisine Cart will allow kids to buy a breakfast item as they are walking into school and then eat it as they are socializing or completing work in the morning. Additionally, Walker said kids may even consider keeping their breakfast item all day and eating it before an after school activity.
Walker has expressed his confidence that this cart will succeed. His goals for the cart are relatively simple and have to do with wanting students to buy into the program and what it is trying to achieve.
"The primary goal for the food cart is to make breakfast more accessible to a larger number of students. Even if we only increase participation by one student who would have otherwise skipped breakfast, it's worth it! As a short-term Departmental goal, I am hoping the grab-and-go cart will increase breakfast participation by 50 students per day. Long term, I would like to see 50 percent of our students choose to get their breakfast at school. The School Breakfast Program is an important one, and I want as many students to take advantage of it as possible," Walker said.
The idea of a grab-and-go food cart sounds promising on paper and could greatly assist students who believe they don't have time for breakfast in their morning. However, it is to be seen if students will buy into the idea.