Coronavirus causes concern throughout state, results in closure of school district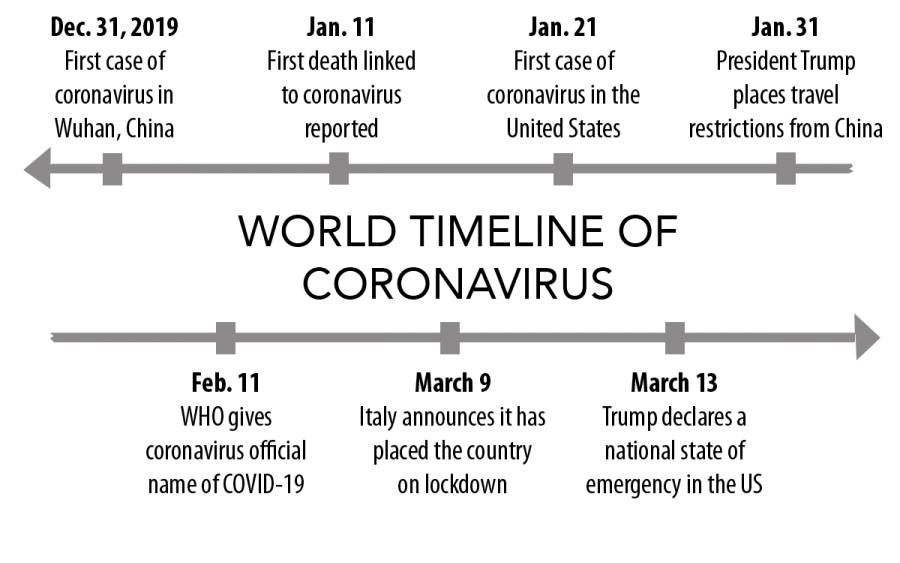 Cade Skuse, Co-Editor-in-Chief (Print)
April 1, 2020
On Dec. 31, the Chinese government reported a cluster of cases in the Hubei province where workers were getting sick with what seemed to be pneumonia. However, on Jan. 7, health officials said that this was a new virus, labeling it as COVID-19, now commonly known as "Coronavirus." Since its first outbreak in January, it has now spread to more than 140 countries, have reported cases and over 180,000 people have been reported to have the virus. 
Symptoms of Coronavirus are very similar to those of the flu or similar illnesses. Coronavirus can cause a person to have a fever, irregular amounts of coughing and shortness of breath. The symptoms may not appear anywhere from two to 14 days. the Center for Disease Control and Prevention (CDC) and the World Health Organization (WHO) asked anyone who had displayed symptoms or had been to an area that was at high risk for coronavirus to remain at home to avoid infecting anyone else in case they were carrying the disease.
The CDC also gave out tips to prevent more people from contracting coronavirus. For example, they suggested that people wear facemasks in order to prevent spreading bacteria through contact with others. The organization also advised the public to make sure they are washing their hands with soap and hot water for at least 20 seconds. If water and soap were not readily available, they advised that people use an alcohol-based sanitizer in its place.
In the United States, doctors diagnosed the first case of coronavirus in Washington on Jan. 20. As of March 9, America is up to over 400 cases across 35 states, including the District of Columbia. Pennsylvania is included in this count, and as there were 10 active patients being treated for Coronavirus.
In order to better inform western Pennsylvania about the ongoing medical crisis, Representative Conor Lamb sent out a newsletter on March 4 to all of his constituents informing them about coronavirus. In his newsletter, he stated information about the virus and ways to prevent contracting the disease and what to do in case someone was sick or thought they were sick with the coronavirus.
On March 6, superintendent Jeffrey Fuller sent home a letter with students concerning the coronavirus. Along with the letter was also a supplement from the CDC that talked about the coronavirus, the risks that came with it and what to do in case someone suspected they had the coronavirus.
"I want you to know that the health and safety of our students and staff is our first priority," Fuller said in his letter. "While our custodial staff does a great job keeping classrooms and buildings clean, they are taking extra time during this cold and flu season."
The staff at Freedom spent the weekend of March 8 and March 9 disinfecting the school as extra steps in order to ensure a minimal amount of transmission between students. Moving forward, the district plans to make sure the school remains as sanitary as possible to avoid anyone becoming sick with any type of disease or sickness.
During the week of March 9, many colleges and universities announced that they were cancelling classes and forcing students to return home due to concerns of spreading coronavirus. Many local colleges, such as Robert Morris University, University of Pittsburgh, Penn State University and Slippery Rock University, announced their closures and their alternative of online classes for students. 
As the number of cases of coronavirus in the United States started to rise, more and more safety precautions were putting into place to ensure minimal spreading of the virus. Throughout the week of March 9, the administration team asked teachers to prepare lesson plans for two weeks in advance in case the school needed to close for any reason. It was not until March 13 when governor Tom Wolf mandated all schools be closed for at least two weeks that these precautions were needed. 
During the same week, several national announcements were made as the virus continued to spread across the country or from having any new cases come into the country. On March 11, President Donald Trump announced a travel ban on anyone coming into the country from many European countries, unless they were a citizen or a permanent resident of America. On  March 13, Trump announced a national emergency with regards to coronavirus in order to free up funding to fight against the virus.
One of the things Freedom did in order to provide to the community was set up a meal distribution program for those who wanted to participate. Each day, faculty would be at one of three locations, the former Big Knob Elementary school, the former Conway Elementary school or the middle school, where they would hand out food for students who came to pick it up. The one condition was that all families must be in a car in order to minimize the risk for contamination.
On March 23, another announcement from Fuller came. This time, the school would have to be closed for another two weeks and would not be able to reopen until April 13. With this announcement also came the cancellation of the high school play.
Many local restrictions, such as the closure of restaurants and non-essential business, have caused many people to be forced to stay home under self-quarantine. The CDC advises everyone to stay home or practice social distancing in order to minimize the risk of contracting coronavirus.