CV Hockey improves as season reaches end of year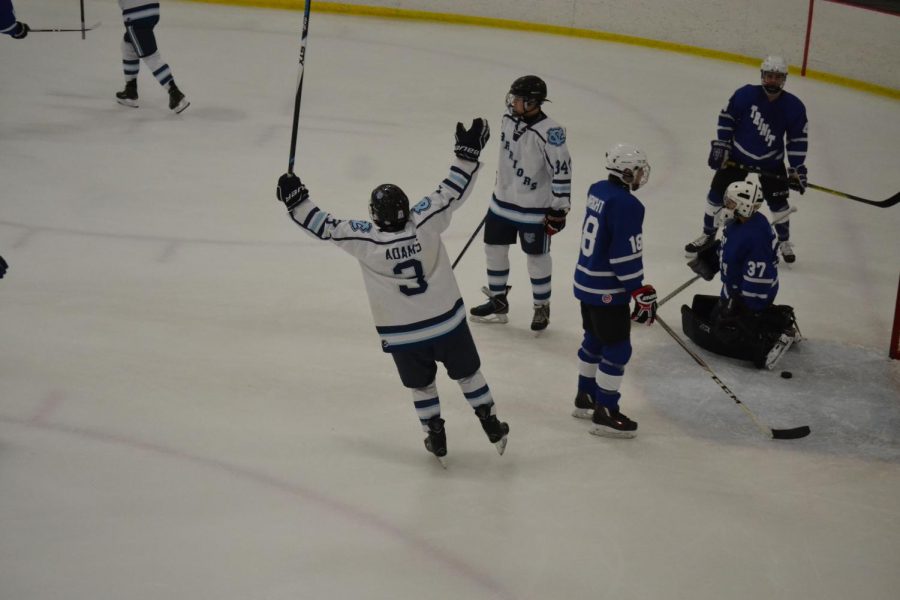 At the beginning of the year, the Central Valley hockey team set one goal: to win the championship. In order to do just that, the team would have to work harder than ever before to finally call themselves the champions of their division. However, this might not be such as a challenge as one intends it to be.
As of Dec. 17, the CV hockey team has played 12 of their 20 games scheduled for the season, which means that they are more than halfway done with the season. Their record as of then was 6-4-2, matching their final record from last season. With that in mind, the CV hockey team, with the help of the Freedom athletes, are already improving from previous seasons that the hockey team saw in the past.
"So far, this is the best varsity season us Freedom players have ever had," senior Sam Romutis said. "We are proud of where we are at. I believe that we could have a banner by the end of the year."
A banner symbolizes that the hockey team has won the championship, so the team reported they'd really like to that happen, and with the record they set, it might not be too hard to accomplish. All they need to do is keep striving forward until the championship falls into their favor.
However, every team has their own downfalls at some point in the season. For the CV hockey team, their downfall was Dec. 17. On that day, the team fell to the Connellsville Hockey team with a score of 10-0. The game took place at Brady's Run Ice Complex, the home stadium for the CV hockey team. Therefore, for all of the teammates, coaches and fans, the game turned out to be nothing like they desired it to be.
"Well I played last night," Romutis said. "I went in after it was 5-0. They scored 5 in 10 minutes, then I played the rest of the game and let in 5." Romutis' position on the team is the backup goalie, which adds the pressure to the game.
Another problem that the team faced was that crucial athletes to the team were missing during that game.
"We were missing our 5 best players, so it was really tough to get anything started," Romutis said. "We will do our best moving forward until our top guys get back."
Even with the devastating loss, no team can rank themselves after a bad game. The team plans on finishing up the rest of the season stronger than before so that they can finally receive the championship banner. Even with just a little bit of determination, anything is possible for the Central Valley hockey team.