GIRLS' SOCCER – Eight seniors hang up the cleats: Girls' soccer season ends with playoff run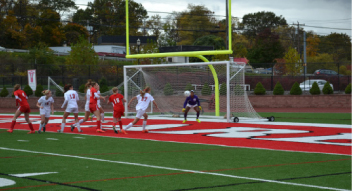 Hang on for a minute...we're trying to find some more stories you might like.
After 4 months of practicing and 2 months of playing, the girls have made it to playoffs. The girls started camp in July and ended before school; where their normal practices started up. The team knew that they had a chance at making playoffs this year, but no one really knew what would happen. Regardless, the girls were going to work hard towards their goals.
The girls won game after game through September and as playoffs became more of a reality, they prepared for October.
When Oct. 2 finally arrived, after their Sept. season, they won their first game against Quaker Valley. The game ended with a score of 3-2. Sophomore Alexa Schwab scored two of the goals and Freshman Lynnsey Kauffman scored one goal. This was one of two major games that determined whether or not they would make playoffs.
On Oct. 6 the girls' played against Quigley Catholic and ended with a score of 4-3 in favor of Freedom. This final game put them in the spot for playoffs, when Riverside had lost their game that same day. Now that the girls' soccer team is in the playoffs they hope to go all the way to top.
"Entering the playoffs my first year of soccer is exciting," Freshman Taylor Petroff said. The team hasn't been in playoffs since 2012
"I haven't been in playoffs since my freshman year so I am really excited about making it to playoffs," Senior Tina Davis said.
With losing their eight seniors and gaining four freshman the team will be mainly younger, so it will affect their playing.
"To make it to playoffs again, I think we will have to improve on our shots and scoring goals," Petroff said.
"To make it playoffs next year I would say that the team needs to pass a lot and talk a lot, and there is a good team coming up," Davis said.
This is sure to be a year the seniors won't forget, but this is also true for the whole team, even though the players are sad to see their teammates and friends leave the grounds.
"I'm really going to miss the graduating seniors. They have made this year of soccer fun for me and the team," Junior Skylar Corfield said.
With only four girls coming up next year and eight seniors leaving, the girls soccer team will have holes to fill. "I believe that the new girls coming up will be able to fill the seniors shoes, at least mostly," Petroff said.
"It will definitely hurt our team, but we are getting a lot of good players up from the middle school," Corfield said.
Next year, the majority of the team will consist of underclassmen.
"I think we are going to have to step up our game and work harder at practice so we will play good,"Corfield said.
On Oct. 18 the team played their first playoff game against Sewickley Academy at Moon. Going into overtime, Kauffman scored the winning goal.
On Oct. 22 the girls won 4-1 against Charleroi at West Allegheny, which put them in the Semi Finals.
At press time, the girls were currently in the semi-finals. They play on Monday, Oct. 27 in the semi-finals. Go to fhs-press.com for updates.