Evolutions in music brings different, competitive music streaming services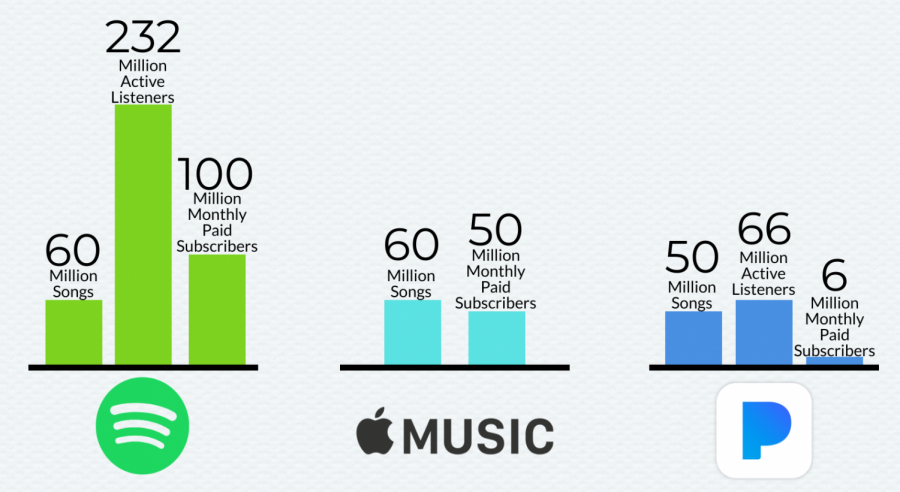 Cole Skuse, Business Manager/News Editor/Copy Editor
October 22, 2019
Undoubtedly, music is one of the most influential parts of today's culture. From radio stations to streaming services, people can play music pretty much anytime and anywhere. With more and more cars utilizing Bluetooth or wired connections to phones, many drivers are opting to use these devices to play their own music instead of listening to radio stations. But out of all the streaming services out there, which music streaming service boasts the best value?
Currently, there are three music services dominating the market: Spotify, Pandora and Apple Music. In April of this year, Spotify reported they had reached 100 million Spotify Premium users and more than 232 monthly active listeners as of June. At the same timeframe, Apple Music reports 50 million paid subscribers, while Pandora reports only having six million paid subscribers and 66 million total users. 
Apple owns Apple Music, as the name suggests, while Pandora and Spotify are both their own companies. Overall, Spotify and Apple Music share many similarities among their services, whereas Pandora goes in a different direction. Both Spotify and Apple Music have a search-based system for people looking for songs, whereas Pandora uses a radio-based system or a search system for paying users. Spotify and Apple Music offer users the options of making playlists of their favorite songs while Pandora uses a system of thumbs up and thumbs down to determine what the listener likes and dislikes. 
To most people, one of the most crucial parts of any service is the answer to a simple question: how much does it cost? Spotify and Pandora both offer a free plan for users, while Apple only offers free trials. Spotify and Pandora also has free trials for their paid plans. Apple Music and Spotify offer their paid package at three different prices, depending on what plan you want. Pandora, on the other hand, offers two different paid packages based on what you want. 
Apple Music and Spotify share the same pricing—$9.99 for an individual plan, $4.99 for a student plan and $14.99 for a family plan, which covers six accounts under one price. Pandora offers Pandora Plus for $4.99 and Pandora Premium for $9.99. Pandora also offers family, student and military plans for Pandora Plus at $14.99, $4.99 and $7.99, respectively. All of the paid services give listeners access to ad-free listening. All of these pricing options are for a month.
On the content side,Spotify and Pandora both let the user search for music and podcasts. Apple Music, on the other hand, focuses on the music aspect, as Apple has separate a separate service for podcasts. Apple Music, however, also has a radio service, which gives it more variety and sources for users to listen to. For song count, Spotify and Apple Music both boast an impressive 50 million song count, with each platform having its exclusives. Pandora trails behind them at 30 million songs, which is also noteworthy. 
Looking for new songs? The basis of Pandora is to introduce a mix of music to the listener. The service uses their knowledge of the user's likes and dislikes to form stations that the user should enjoy. Spotify and Apple Music also do this, but to a lesser extent. These services create playlists for users based on what they listen to. 
Each service has something to offer and their own strengths. Pandora offers more options of price to users, which is appealing to some, while Spotify and Apple Music both have more content. Spotify and Pandora both have free options, which Apple Music lacks. Overall, the battle boils down to what users are looking for in the service and how accessible it is to them.