FASD news in brief
Long term school board members receive awards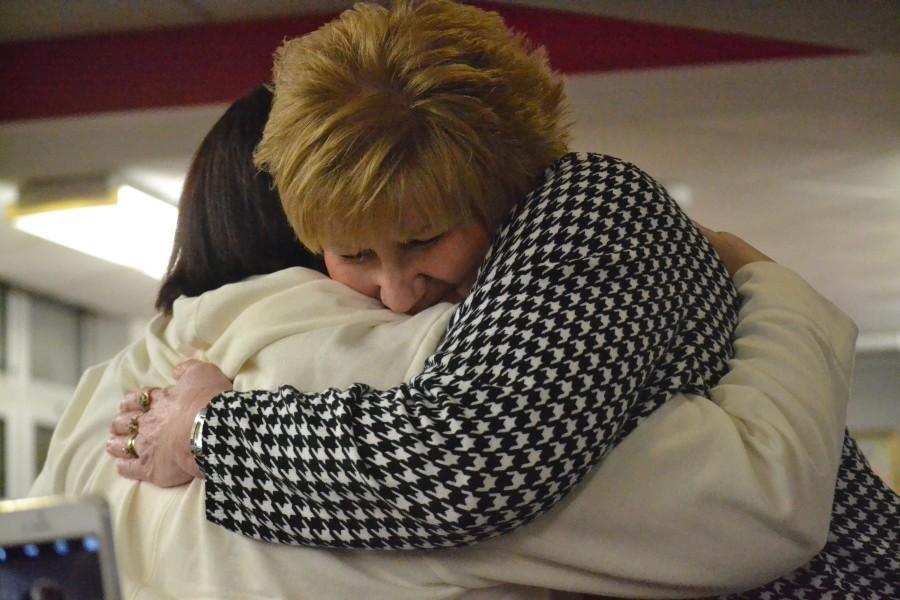 BOARD MEMBERS RECEIVE SERVICE AWARD
On Dec. 10, school board members and the community recognized Barbara J. Heyman for all her work for the Freedom Area School District. Dr. Jeffrey Fuller led a moment of silence. Lynn Foltz, from the Pennsylvania School Board Association (PSBA), accepted a service award to Heyman's daughter, Lisa Heyman, on her mother's behalf. Barbara Heyman served on the school board for 36 years. Lisa Heyman presented the award back to Fuller.
Along with Barbara Heyman, Lorraine Rocco and Mary Ann Petcovic were also presented an award from PSBA. Rocco has served on the school board for 36 years and Petcovic for 32. Both were presented with a plaque.
SCHOOL BOARD MEMBER ELECTIONS
Petcovic was nominated for school board president, but she declined the nomination. Jennifer Sayre was nominated for the presidency and the motion went through. After the motion passed, Jennifer Sayre was the newly-elected school board president. Petcovic returned to her previous position of vice president.
After the passing of Heyman, a vacant spot in the school board needed filled. A vacant spot in the school board opened nominations to fill the extra spot in the board. Alan Colorito was nominated and the motion was passed. He was elected back onto the school board, and took on the role of treasurer. Colorito will serve a two year term.
TEACHER UPDATES
The school district hired Linda Hahn as a Middle School Instructional Aide. Kaylynn Hill and Brandace Coney both transferred positions. Hill went from a student aide to a learning support instructional aide. Coney went from a learning support instructional aide to a cyber aide.
The high school has accepted student teacher, Heidi Mann, to be placed with Ed Shephard from March 14 through April 29, 2016. The school board also approved the resignation from Amy Gloekner, Elementary Learning Support Aide, effective Dec. 22, 2015.
STUDENTS PARTICIPATE IN HONORS BAND AND CHORUS
Five FHS students went to Westminster college to represent Freedom through PMEA District 5 Honors Band and Chorus. The students spent months of preparation and auditioning to partake in these events.
Senior Lara Pavlick auditioned and prepared for Honors Chorus. She went to Westminster College to audition for a place.. She made 7th chair and on Oct. 29, 30 and 31, Honors Chorus performed in concert. The guest conductor was Dr. Janet Galvan from Ithaca College.
Pavlick and Junior Maddie Edder both will be participating in District Chorus on Feb. 3, 4 and 5. There, they will have a chance to move onto Regional Chorus.
Juniors Kameron Mayhue and Hannah Shumsky participated in Honors Band. Mayhue and Shumsky auditioned for Honors Band on Nov. 17 at Westminster College. Mayhue got third chair and Shumsky got fourth. The preparation and concert took place Dec. 3-5 at Westminster College. Mayhue had a flugelhorn solo in "Gandalf." The guest conductor was Allegheny Professor Dr. Lowell Hepler.
Junior Nicole Kammer, as well as Mayhue and Shumsky will go to District Band on Jan. 28-30 at New Castle High School. There, they will all have the chance to move onto Regional Band in March.
SCHOOL DISTRICT TERMINATES KEM-R-LAWN CONTRACT
The school district approved the termination of the $11,771.50 lawn mowing agreement with Kem-R-Lawns. This lawn mowing agreement was for the previous elementary schools, Big Knob and Conway, and was approved at the June 18 meeting. Next month's school board meeting will be on Jan. 14. in the middle school library.
THREE STUDENTS MOVE ON TO PSPA STATE FINALS
On Nov. 6, students from the Print Media Workshop competed in a writing or yearbook design competition. Senior Grace Hutchison, who wrote a feature piece, achieved first place. Junior Devin Daley, who wrote a sports piece, also placed first. Junior Brianna McKee, who participated in a yearbook design creation, placed first. All of the students who won will be moving onto the PSPA State finals in March at Penn State Main.
STUDENTS PLACE IN JOHN KNOX WRITING COMPETITION
Senior Dereck Majors and Shumsky participated in Waynesburg University John Knox writing Contest. This competition took place on Nov. 7 at Waynesburg University. Majors and Shumsky took second and third places respectively. Together, they won $500.