FHS Journalism adviser wins PSPA Journalism Teacher of the Year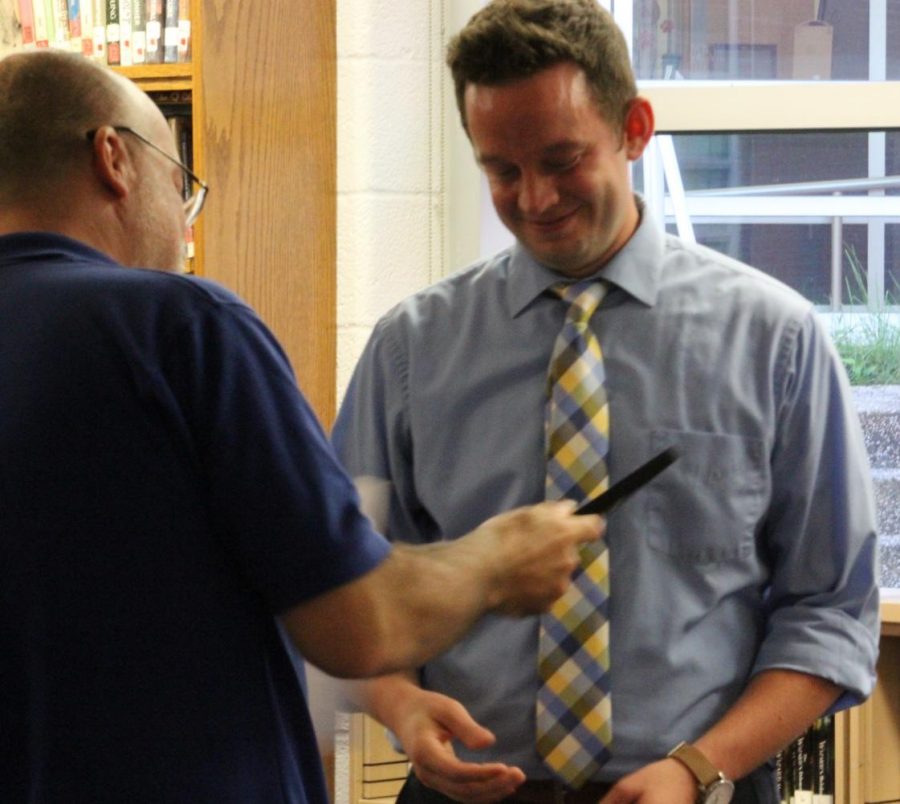 Cole Skuse, Business Manager/Copy Editor
September 26, 2018
Eight years ago, the Freedom Area School District welcomed a new faculty member to their staff: Mr. Aaron Fitzpatrick. With the introduction of Fitzpatrick to the school district, the FHS Press published an article aptly named "Mr. Fitzpatrick." "'I knew it was the school for me,' he said," the article stated. Eight years later, not only has Fitzpatrick found his place within the school district, but also his place as the Pennsylvania School Press Association's (PSPA) 2018 recipient of the PSPA Journalism Teacher of the Year.
Fitzpatrick currently teaches classes for three different mediums of publication: yearbook, newspaper and broadcast. Yearbook and newspaper are through Print Media Workshop and broadcast is through Broadcast media Workshop. Along with those classes, Fitzpatrick also teaches CCBC Public Speaking, CCBC American Literature and Communications. All of these classes allow Fitzpatrick to interact with sophomores through seniors on a regular basis.
Prior to receiving the award, Fitzpatrick was invited by PSPA in January to serve as a member on the Board of Directors of PSPA. The organization was founded in 1925, which makes it one the oldest school-press organizations throughout the entire country. As part of their organization, PSPA holds competitions and present awards across Pennsylvania. In this case, though he is a part of the association, Fitzpatrick was nominated by former student and Shawnee Yearbook editor-in-chief Kayla Eaton for the award.
The award is to "recognize annually a Pennsylvania journalism teacher who has demonstrated outstanding leadership in some aspect of journalism advising in a Pennsylvania public or private school," according to PSPA's nomination form for the award.
For a complete nomination, the nominator must send the nominee's resumé, a photo of the nominee, three letters of recommendation and up to 10 works produced by the nominee's publications.
"I can attest to the incalculable value of what he has taught each of his students. These valuable lessons have caused not only our publications to thrive, but also each of us in our everyday lives. Mr. Fitzpatrick's level of understanding, engagement, knowledge, and passion is what makes him not only one of the best teachers I have ever had, but is what contributes to the overall quality of our publications," Eaton wrote in her letter of recommendation.
On Sept. 18, PSPA Board President Paul Fantatski came to Freedom to present the award to Fitzpatrick. The presentation took place in the middle school library during the school board meeting at the beginning. Fantaski spoke about his past with Fitzpatrick and the success that had come out of Freedom due to Fitzpatrick's teachings.
In the past four years, Fitzpatrick has had several students place at PSPA state competitions. This year, members of Fitzpatrick's Print Media Workshop and Broadcast Media Workshop classes compete at Point Park University in Pittsburgh in yearbook, newspaper and broadcast categories. By placing first at this competition, those individuals can attend the state competition at Penn State University. Former students Devin Daley, Joseph Pail, Hannah Shumsky and Rachel DeCesaris have all become state champions in previous years. Last year, in addition to the competitions, Eaton was runner-up for 2018 Jane Blystone Student Journalist of the Year.
The variety of success, dedication and work that Fitzpatrick has put into his position at FHS is a justification that Fitzpatrick is qualified to receive awards such as Journalism Teacher of the Year. In eight years, Fitzpatrick has made achievements that are can certainly be called imPRESSive.