FHS: Year in review: Deal and Smith reflect on school year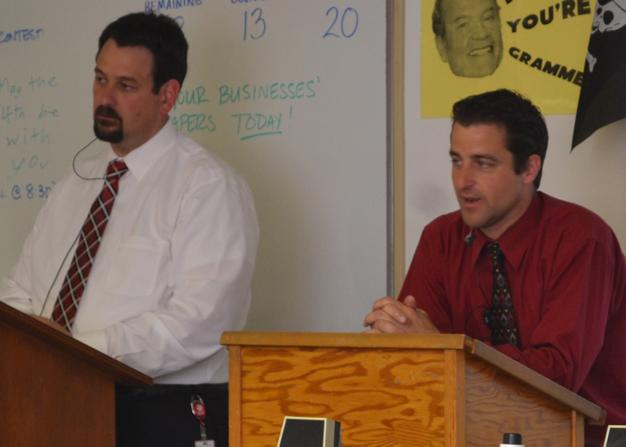 The beginning of the 2014-2015 school year brought about many changes for FHS and its students. Some of these changes were anticipated with Mr. Timothy Dadich, FHS's former principal, resigning from his position at the end of the 2013-2014 school year; other changes were not foreseen.
Mr. William Deal, former principal at Berlin Brothersvalley High School, filled Dadich's vacated position a day before the start of the school year. His main plan for the year was to observe what was working well for the school and what improvements could be made to benefit students and staff in the future. Next year will be about implementing the solutions to the inefficiencies he has found this year.
Some changes, including iPad cart availability in some classrooms, are already being tested to see if they benefit the student's learning experience. As of right now, it's uncertain whether students will continue to use them in class next school year or in following years. The iPads are only being used as a test, and it's uncertain whether students will be able to utilize them again next year or in the following years.
When Mr. Frank Hernandez, former high school assistant principal, was hired as the middle school principal, Mr. Ryan Smith, former lead teacher at the middle school, took over his position.
"Having the experience down at the middle school and having some sort of interaction with all of you [previously], it has been an honor just to see the maturity process in the last three to four years. It's been wonderful and has been a great transition because of that," Smith said.
Over the course of the last four years, FHS has seen three principals and three assistant principals, but it looks as though Deal and Smith aren't planning to continue this trend. Deal just bought a house within the district, and Smith grew up within the Freedom School District, which indicates they both have reasons to stay.
"I do actively want to show all of you and the community that this is a place that I want to personally invest in and plan to be here, and it also shows that, if I didn't believe in what we were doing, I wouldn't send my own child here," Deal said.
Though this year has been full of transitions, Smith and Deal had many positive takeaways from the year and the student body.
"Just that sense that everybody takes everyone else under their wing and just kind of helps out paired with the level of care, giving and maturity are some of the things that I think sets us apart," Deal said.
Deal is excited to finish up his first year in Freedom. He is also anxiously awaiting the annual tractor parade on the last day of school. He has stated that he wants to participate in the parade as long as he is able to drive a John Deere.
"[The most unique thing you have in Freedom is] the tractor parade, because it is just hysterical and I can't wait to be a part of it. I'm so excited for it," Deal said.
Both Deal and Smith have future plans for the district that they would like to see come to fruition in two very different aspects of the school. Deal would like to see improvements in our technology department because he feels we aren't currently fully realizing the benefits we have, being a one-to-one laptop school. Smith, on the other hand, would like to see more strides be made to positively enact more pride in the school, including having a larger student section at athletic events.
With so many changes taking place throughout the year, Deal and Smith have established a good working relationship that allows them to stay calm instead of getting overly frustrated when dealing with events such as our recent bomb threats.
As this year winds to a close, FHS students and staff can be prepared for more future changes and ideas from Deal and Smith in upcoming school years. The upcoming years look promising with two administrators that plan to better the district without leaving anytime soon.