Fighting for their lives
New club aims to teach females protection from potential attackers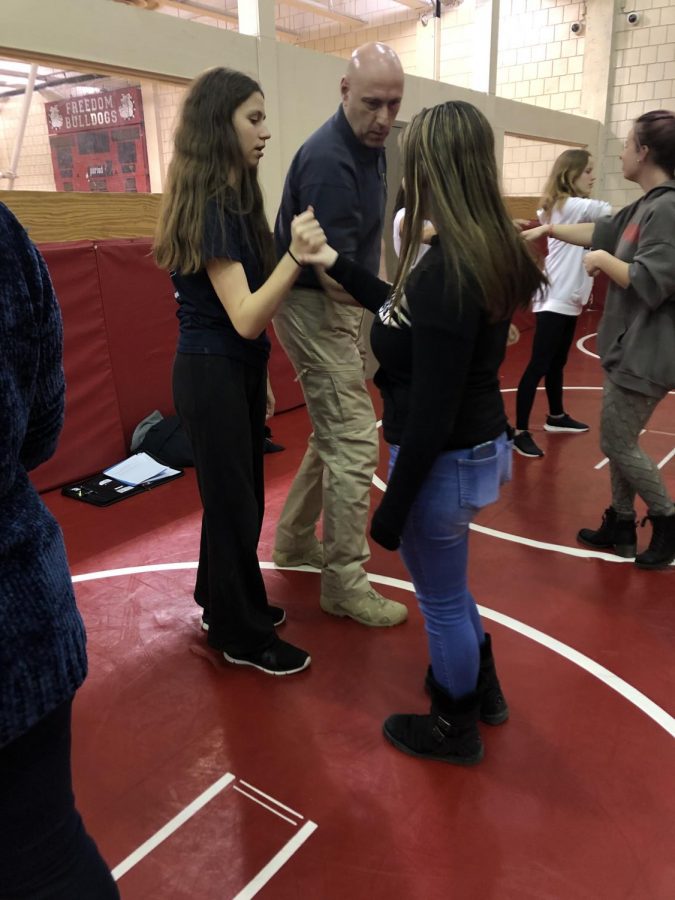 Just this year the high school added a new club to teach self defense to willing students.The program is open to female students, for protection in dangerous situations. The organization will hold meetings every Thursday through the end of the year. The idea came to be when physical education teacher Lisa Woods was in a Target parking lot with her daughter.
"A sketchy man came up to us in broad daylight asking for money, after I said I didn't have any he was looking into our car while we walked away," Woods said.
The vision resurfaced yet again during the school's active shooter drill. Woods and her female students had barricaded themselves in the locker room. They began discussing how they would fight off an intruder if need be.
"After that I asked Mr. Deal and Mr. Mott for approval, which they gave me. It was suggested that I speak with Officer Liberty about it," Woods said.
School Resource Officer Tom Liberty worked with Woods to plan the club. Liberty had the perfect instructor for the program in mind.
Deputy Tom Shane works for the Beaver County Sheriff's department in the warrants division. Meaning that if there's a warrant out for someone's arrest, he can find them and take them into custody. Shane also teaches self-defense for the state sheriff's academy and was a part of the active shooter drill training. His experience helped with the decision to involve him in the club.
After a heavy amount of planning, the first meeting was held on Feb. 21. For the first few meetings, Shane taught the girls in a classroom. Later, the meetings became hands-on practice of the moves that Shane taught.
Shane showed the members of the club how to escape being grabbed by the wrist and how to get out of a headlock. He placed emphasis on the levels of awareness and how important it is to be cognizant of your surroundings.
Since day one, Shane has put emphasis on the girls not being easy targets, giving tips such as keeping their heads up and shoulders back or making their presence known so that they are less likely to be pursued. The overall goal of the program is to give women the ability to keep themselves safe.